This month's Cake Slice Bakers will be baking a Chai Cake with Honey Ginger Cream ... sounds intriguing doesn't it! As I've not made a cake or any dessert with tea in it, I was really, really keen to try this out. Even more so after a fellow Cake Slice had posted that this happens to be her best cake so far from all the cakes we have baked from day one.
For me the hunt was on for Chai tea ... you ask me Ceylon, Assam, Green, Darjeeling, etc tea I can find it. But Chai ...??? I finally found it at one of the Cold Storage supermarket outlets and boy was it "cheap" (pardon me but this is me being sarcastic). The box cost me USD6 but what the heck, if I wanted this cake to be as authentic as possible, I would rather use Chai instead of another substitute.
Rather than bake a full 8" cake, I halfed the recipe to a 4" triple layer instead. The layers were baked on Saturday and the frosting and assemblying of the cake was done on Sunday afternoon. Overall the cake was extremely good and I do agree that this recipe is probably either number 1 or 2 on my list of challenges we have done todate. However I do have a few comments about the original recipe:
** I didn't think the Chai flavour was strong enough and will use an extra bag of tea or two in future
** The frosting was a tad too sweet for my taste. So next time I'll either cut down on the amount of icing sugar or the honey used
** The amount of grated ginger in the frosting was certainly insufficient in my opinion. I actually added an additional teaspoon and to top it off, I also added a teaspoon of ground ginger. I tasted as I went along when blending the frosting and after the "additional additions" I gave it the thumbs up!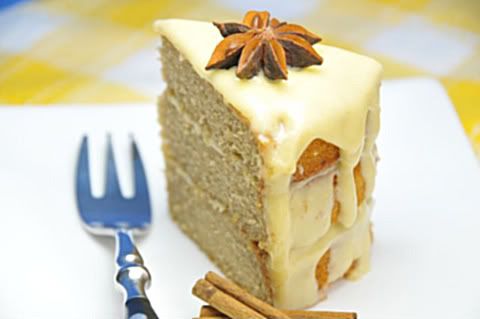 Chai Cake with Honey Ginger Cream
From Sky High:Irresistible Triple Layer Cakes by Alisa Huntsman and Peter Wynne
Ingredients:
1 and 1/3 cups of milk
6 chai tea bags, without added sweetner, such as Tazo
4 whole eggs
2 egg yolks
2 teaspoons of vanilla extract
2 and 3/4 cups of cake flour*
2 cups of sugar
4 and 1/2 teaspoons of baking powder
3/4 teaspoons of ground cinnamon
1/2 teaspoon of ground cardamom**
1/2 teaspoon of salt
8 ounces of unsalted butter at room temp.
[*1 cup of cake flour is equal to 3/4 cup of all purpose flour plus 2 tablespoons of cornstarch.]
[**Cardamom substitute is an equal amount of brown cardamom OR equal parts ground nutmeg and cinnamon OR equal parts ground cloves and cinnamon]
Method:
1) Preheat the oven to 350 Degrees F. Grease the bottom ans sides of the pans and line with parchment paper. Grease the paper as well.
2) In a small saucepan bring the milk to a simmer over low med-low heat. Add the tea bags, careful not to let the paper tag fall into the milk. Remove from heat and allow the tea to steep for 5 minutes. Remove the teabags and squeeze out the milk. Let the chai milk cool completely.
3) In a medium bowl mix the eggs, egg yolks, vanilla, and 1/3 cup of the chai milk. Whisk together.
4) Combine the flour, sugar, baking powder, cinnamon, cardamom, and salt in the bowl of a mixer. Beat on low for 30 seconds. Add the butter and the remaining chai milk, on med-low speed. Raise the speed to medium and beat until light and fluffy. Add the egg mixture in three additions scraping the between additions. Divide the batter evenly among the pans.
5) Bake the cakes for 26-28 minutes, or until a cake tester inserted in the middle comes out clean. Allow the cakes to cool in the pans for 10 minutes.Remove cakes from pans and peel off parchment paper. Cool completely.
6) To assemble the cake place one layer flat side down a serving plate and top with 2/3 cup of icing. Spread to the edge and repeat with second layer. Place third layer on top and spread the remaining ginger cream on top allowing it to drizzle down the sides of the cake like icicles.
Honey Ginger CreamIngredients:
2 and 1/2 cups of confectioners sugar
6 ounces of cream cheese at room temp.
6 tablespoons of unsalted butter at room temp.
1/2 cup of honey (any kind as long as liquid)
1/2 teaspoon of fresh grated ginger
Method:
Place all the ingredients in a food processor. Pulse to blend together, then scrape the sides of the bowl and pulse until smooth.