I have not made muffins for ages now and felt in need of a couple for breakfast the next morning. One thing great about making muffins is that you won't have a whole lot of cleaning up to do. Another plus point is that it'll really take you half the time as compared to baking a cake or cupcakes.
As I have a huge jar of oats left plus frozen berries in the fridge, I decided to try out this particular recipe. I would now buy berries whenever they are on offer and freeze them for future use. It's really handy for times like this or when the urge to make a berry crumble for dessert comes to mind.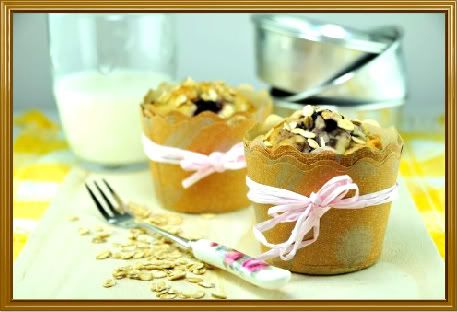 Mixed Berry, Maple Syrup & Oat Muffins
Ingredients:
1 3/4 cups self-raising flour
1 cup oats, plus extra for topping
1/3 cups chopped walnuts
1/4 cup brown sugar
3/4 cup low fat milk
60g unsalted butter, melted
1/4 maple syrup, warmed
1 egg
250g frozen mixed berries (blueberries,raspberries & blackberries)
Method:
1) Preheat oven to 180C. Line a cup muffin or cupcake tray with paper liners.
2) Sift flour into a large bowl. Stir in oats, sugar and walnuts. Make a well in the centre of the dry ingredients.
3) In a jug, whisk together milk, butter, syrup and egg. Add to dry ingredients, mixing lightly until just combined. There will be a few pockets of flour but don't worry. This gives the charactistic muffin texture. Fold in berries.
4) Spoon evenly into prepared pan until 3/4 full. Sprinkle with the additional oats.
5) Bake for 25 - 30 minutes until golden and cooked when tested. Cool on wire rack. Store in an airtight container - these freeze well.
[