Both my hubby and I are great fans of thin crusted pizzas. It's probably because it seems a well balance of both bread and toppings. We also enjoy hearing that "crunch" sound of toasted bread in between each bite. I have never ever thought of making my own pizzas until I attempted it as one of the
Daring Bakers Pizza Challenge
. Since then I don't really bat an eye if I was asked to make it from scratch. It's defintely no skin off my nose. However sometimes through sheer laziness, we will stock our freezer with frozen pizzas. Okay, it's not fresh I know but it's the closest I could probably get to the real stuff (other than call for pizza delivery)! We would usually buy a particular frozen pizza under the Dr Oetker label and would get them only when they are on offer. We really like these pizzas because they are super thin. Whenever we need a pizza fix, we'll just take it out of the freezer, no thawing process required, and I'll crank up the oven to 220C, add additional cheese topping and fresh bazil, reheat them until they come up nice and golden brown. Within 15 minutes or so it's munch time!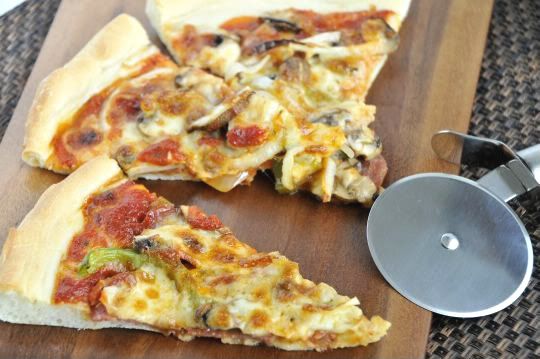 Thin Crust Pizza

Makes two 15" round pizzas
Pizza Dough
Recipe from Kitchenaid

1 pkg active dry yeast (about 11g)
1 cup warm water (105 to 115F)
1/2 tsp salt
2 tsp olive oil
2 1/2 to 3 cups all-purpose flour
1 tbsp cornmeal
For the Pizza Topping:

450g jar of pasta or pizza sauce (canned or homemade if you really have the time. I simply used a bottled mushroom and basil pasta sauce for the base.)
300 pepperoni salami, thinly sliced
1 medium size green pepper, sliced
1 medium onion, sliced
2 cups brown mushroom, sliced
300g grated mozzarella
2 cloves garlic, minced finely
Method:
1) Dissolve yeast in warm water in a mixer bowl. Add salt, olive oil, and 2 1/2 cups flour. Attach bowl and dough hook.
2) Turn to Speed 2 and mix for 1 minute. Continue on speed 2, add remaining flour, a bit at a time and mix for another 2 minutes, or until dough clings to hook and cleans sides of bowl.
3) Knead on speed 2 for 2 more minutes. Place dough in greased bowl, turn the ball of dough around to ensure that you grease the entire ball. Cover bowl with cling-wrap. Let rise in warm place, free from draft, about 1 hour or until double in bulk.
4) Preheat oven to 220C. Punch down dough to release the gas. Brush 2 pizza pans with oil and sprinkle with cornmeal. Split dough into 2 balls. Roll, stretch, or toss the dough until thin and place on the pans. Smear the sauce onto the dough evenly and not too thick.
5) Using half the ingredients, layer the pepperoni on each pizza. Then sprinkle the mushrooms, green pepper, garlic and onion on top of the dough. Use the remaining half of the ingredients for the 2nd pizza. Top each pizza with the grated mozzarella.
6) Pop the pizzas into the pre-heated oven and bake for about 15 - 18 minutes until golden brown. Remove pizzas from oven and allow it to sit for about 1 - 2 minutes before cutting them to serve.