Would you believe me if I told you that I have always wondered what a brioche tasted like? It's true ... okey. And I told myself that I am going to find out this weekend as my game plan was to make me a batch of brioches.
I have been trying out a few different yeasted recipes lately and I must admit that my confidence level for making bread has gone up a notch. Previously it was rock bottom! Hmmm come to think of it that was pretty much how I would have described what my bread was like too! I'm pleased to say of the recipes I have tried todate, non have failed me yet and the end result were tasty loafs. So I'm keeping my fingers crossed that the brioches will turn out as they should. If you have not made bread before, bear in mind that you really have to put aside at least 4 hours of "hanging around" time simply because yeasted recipes will require either one or 2 proofings.
I made the full recipe as below but used only half of it which worked out to about 8 brioches. The remaining dough is sitting in the freezer right now and I hope to thaw it out this weekend. Maybe I'll turn them into savoury buns instead. The amount of butter in the ingredients made the brioches extremely moist, soft and buttery .... a little bit difficult to handle if you don't have a sturdy mixer. For the end result .... I must report that they are extremely, extremely delicious - on it's own, slightly warm or served with your favourite jam - yum! I took some to the office (they were left in an airtight container over night) and surprisingly the brioches retained it's fluffiness.
If you like this recipe, you may be interested to try out another yeast recipe,
Celebration Bread
.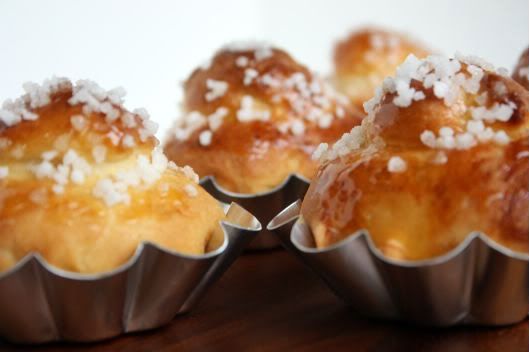 Brioche

Makes about 14 to 15 brioches
Ingredients:
2/3 cup (150ml) whole milk (I used low fat milk as that was what I had in the fridge)
2 1/4 cups (280g) all purpose flour
1 packet (7gr) dry active yeast
1 egg
1/4 cup (50gr) sugar
1/4 teaspoon salt
1 tablespoon orange extract
1/2 teaspoon orange zest
5 tablespoons (70g) butter, at room temperature
egg wash: 1 egg whisked
1/3 cup apricot jam (you can use any other jam you favour)
pearl sugar to decorate (you can use candied fruit as well)
Method:
1) In a microwave safe bowl, warm up the milk for about 25 seconds in the microwave until lukewarm (no higher than 110-112F) and stir in the yeast with a wooden spoon to dissolve. Let stand until foamy, about 10 minutes.
2) Put yeast mixture into a stand mixer bowl, add the egg, sugar and salt. Whisk to combine.
3) Put on low speed (speed 1) and using a dough hook, slowly add in the flour and orange extract. As the flour gets incorporated start adding the butter, one tablespoon at a time. Let the machine run for another 8 minutes to knead. You can do this by hand but the dough is extremely wet and a stand mixer makes it easier to handle.
4) Place the dough in a lightly oil bowl, cover with plastic wrap and let rise at room temperature for about 30 minutes.
5) Then transfer the dough to the refrigerator to rest for an hour. At this point you can leave the dough in the fridge for a day or overnight or proceed with the recipe. (Alternatively you can also freeze the dough for another day)
6)Preheat oven to 180C. On a lightly floured surface, form the dough into a ball and divide it into half. Keep one part refrigerated as you work on the first one.
7) Divide the dough into 7 balls. Pinch a small piece from each ball, the size of a small grape. Shape the remaining into a round ball. Place the large ball onto a brioche mould and the smaller one on top of it. Repeat with the remaining 6 balls. Remove the other half dough from the fridge and repeat the shaping process. Place the brioche moulds on a baking sheet and let rise for 30-40 minutes.
8) Brush with the egg wash and bake for about 20-25 minutes or until golden brown.
9) Let cool. In the meantime, spoon some apricot jam into a bowl and microwave it for about 15 seconds. Using a pastry brush, brush the melted jam on the brioche. Then stick on the pearl sugar on each brioche for decoration. Serve brioche with apricot jam.