I had spare time on my hands a few weeks back and decided that I'll to try out a cookie recipe I had chanced upon whilst browsing through one of my favourite food blogs, Jen of
Use Real Butter
. If you have not checked out her blog, I would encourage you to do so. I particularly admire Jen for her great recipes and beautifully taken nature photographs. In addition, I find her to be an amazing person, witty and funny, strong in character but at the same time having such a sensitive nature.
Anyway it was mid week, after work and the telly was showing some really crappy movies. So to while away the spare time, I decided to try out her cookie recipe. It also gives me the opportunity to use up the 2 bottles of molasses I have sitting in my cupboard. I particularly love ginger cookies and when I was young, I would dunk them into a cup of Nescafe and gobble up the soggy bits with such tenacity. Hmmm come to think of it I haven't done that in ages! Since my first batch, I've made three other batches todate and have slightly adjusted the original recipe. All I can say is these cookies are damn, damn good and I'll be making some more pretty soon.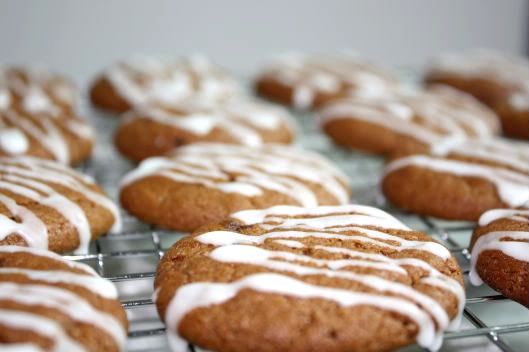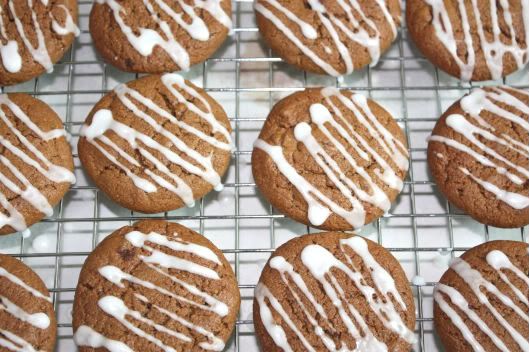 Molasses Cookies

Recipe Adapted from Use Real Butter

Ingredients:
3/4 cup (170g) unsalted butter, softened
1 cup (190g) dark brown sugar, packed (I reduced the sugar to 175g)
1 cup (225g) fine castor sugar (I reduced the sugar to 180g)
2 eggs, well-beaten
1/2 cup (200g) molasses (not blackstrap)
1/2 cup (130g) crystallized ginger, minced
2 tsps (5g) vinegar
1 tbsp vanilla
3 3/4 cups (530g) flour
1 1/2 tsps (7g) baking soda
6 tsps (12g) ground ginger (I added 8 tsps of ground ginger as I do like my cookies with a bit more ginger "kick" to it)
2 tsps (5g) ground cinnamon
1/2 tsp (1g) ground cloves
1/4 tsp (2g) salt
Icing:
2 cups powdered sugar
about 1/4 cup milk (add a bit at a time)
Method:
1) Cream together the butter and the sugars. Stir in the eggs, molasses, ginger, vinegar, and vanilla.
2) In a separate bowl, combine the remaining (dry) ingredients and mix well. Add the dry ingredients to the wet mix and beat until just combined.
3) Preheat oven to 325°F (160C). Form dough into 1-inch balls and place on cookie sheet or Silpat with 1.5 inches of space between each (they spread a bit but if you want a much flatter cooker, just flatten the ball slightly with the back of your palm). I found it easier to chill the dough for a while before shaping it. And in between trays I returned the dough into the fridge to chill.
4) Bake about 12 minutes. Cookies should be still soft when removed from oven. Cool on a wire rack.
To Make the Icing:
Place powdered sugar in bowl and add a little milk, stirring to incorporate. Continue to add milk if required until the glaze has a good thick pouring consistency (but not runny). Fill a squeeze bottle with the glaze and stripe the cookies. Let the glaze set.