Since young we have always associated eating Loh Mai Kai with a dim sum breakfast. I believe this dish first originated as part of southern Chinese cuisine. It consist of glutinous rice filled with chicken, Chinese mushrooms, Chinese sausage, scallions and sometimes dried shrimp. The rice with it's flavouful content would then be wrapped in a dried lotus leaf and then steamed. Some restaurants would serve it the old fashion method with the lotus leaf. Because of difficulties in obtaining lotus leaves, some restaurants would just steam the rice in metal or procelain bowls and then serve it as it is. Sometimes Loh Mai Kai is divided into smaller wraps, which are known as chun chu gai (珍珠雞) literally meaning "pearly chicken" in Chinese.
Nowadays with modern technology you can even get ready made frozen Loh Mai Kai. You just need to take it out from the freezer, steam it according to the instrucitoions printed on the packing and in no time at all it's ready to be eaten. I've always loved ordering this dish whenever we are out for a dim sum (or yum cha as some of you may call it) meal. There is nothing better than a freshly steamed, piping hot Loh Mai Kai to fill your belly but you really have to eat this hot otherwise the glutinous rice tends to harden and dry out a bit.
This particular recipe comes from a Malaysian cookbook which has been with me for more than 15 years now. I've made this numerous times and have always gone back to using this recipe.
Loh Mai Kai (Chicken in Glutinous Rice)
Ingredients:
450g glutinous rice
6 Chinese dried mushrooms
1/2 whole chicken
2 Tbsp soya sauce
1/2 tsp thick soy sauce
2 Tbsp oyster sauce
2 tsp sesame oil
1 Tbsp sugar
1/4 tsp pepper
7 Tbsp oil
170g roast pork (if you can't find roast pork, omit it but add a bit more chicken to your dish)
3 pieces dried chinese sausage
1 Tbsp cornflour
salt to taste
1 stalk coriander leave - chopped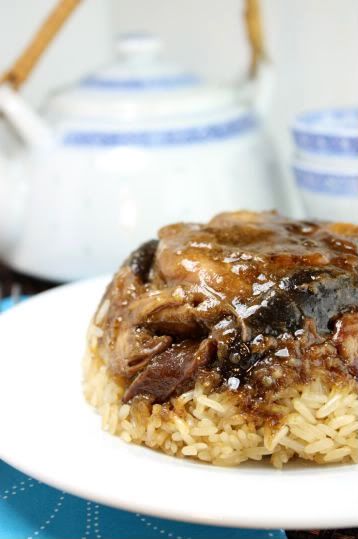 Method:
1) Soak the glutinous rice overnight. Rinse and drain well.
2) Soak the mushroom for about 20 minutes and then cut in half
3) Cut the chicken into bite-size pieces. Season with 1/2 Tbsp sesame oil and 1 tsp sugar.
4) Slice the roast pork into 1 cm cubes and season with 1/2 tsp soy sauce, 1/2 tsp thick soy sauce, 1 Tbsp oyster sauce, 1 tsp sesame oil, the remaining sugar and pepper.
5) Slice the sausages thinly, lightly fry for about 2 minutes and set aside.
6) Heat 2 Tbsp oil and fry chicken until cook and all the gravy absorbed. Remove and set aside.
7) Heat another 2 Tbsp oil, add in roast pork and stir fry for about a minute.
8) Add mushrooms and 1/4 cup water cover and simmer for 10 minutes. Blend cornflour with 1/4 cup of water and thicken the gray. Set aside.
9) Mix the glutinous rice with 3 Tbsp oil, 1 Tbsp soy sauce, 1/2 Tbsp sugar and 1/2 tsp salt.
10) Divide chicken, roast pork, sausages and mushrooms into 10 equal portions. Place each portion in a bowl.
11) Divide the rice into 10 portions also and cover the ingredients of each bowl with 1 portion of rice. The bowls should only be half full.
12) Steam the bowls of rice in a steamer for 30 minutes or until the rice is well cooked.
13) Turn each bowl of rice onto a serving plate and serve garnished with chopped coriander leaves.