If ever you are in Hanoi, one of the "must" places in your agenda should be Halong Bay. Halong Bay is a top tourist attraction in Vietnam and has been listed amongst the World Heritage Sites by UNESCO. Located in the Gulf of Tonkin, it forms an amazing seascape of limestone pillars along with more than 1,600 islands and islets. "Halong" literally means "Bay of Descending Dragons". A local legend says that a family of dragons was sent to defend the land a long time ago when the Vietnamese were fighting the Chinese invaders. These dragons had descended upon what is now known as Halong Bay.
Preferably you should spend a night in a junk on the bay - that's provided you have the time. However we didn't, so we opted for a day trip instead. The mini bus picked us up from the hotel together with the rest of the tour group. The road trip itself would take 3 1/2 hours up north on a 165km journey. It was raining slightly in the morning and we kept our fingers crossed that it was just a passing cloud. By the time we reached the harbour, it was almost noon time. There were hundreds of tourists alighting from tour coaches and waiting to board their respective junks. There were many junks docked at the harbour and in and around the harbour as well. Besides cruising Halong Bay, our itinerary also included a tour of one of the many caves found in the bay, a bit of kayaking and a visit to a local fish farm. The rain had stopped by then but the sky was still a bit gloomy. However it got better as the day progressed and we were graced by sunshine.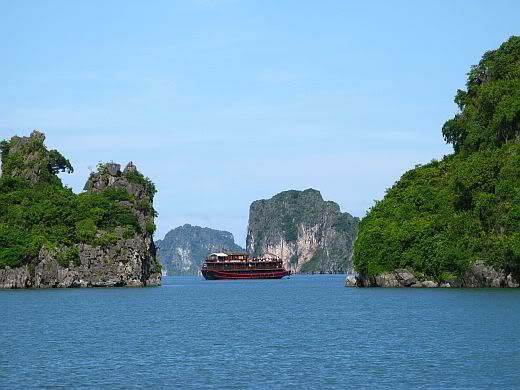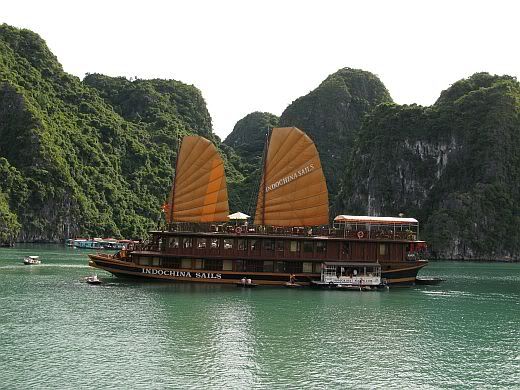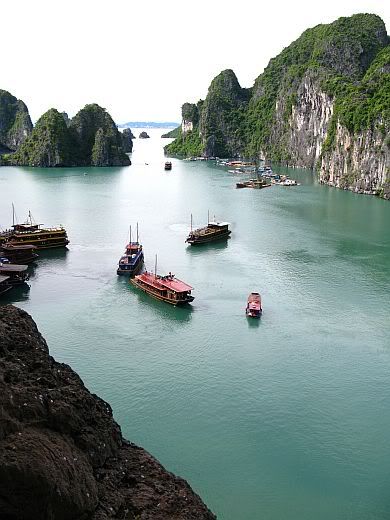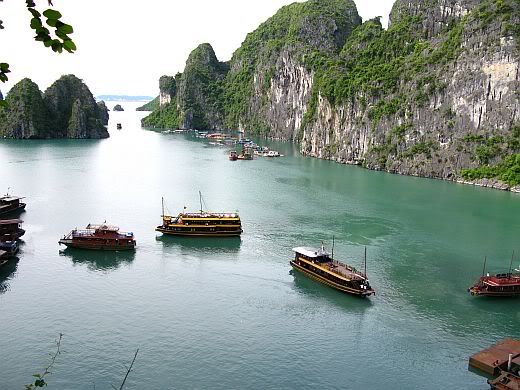 The cave which we explored is called Hung Sung Sot Cave. To get to the cave we had to walk up a steep path lined with shady trees. There are two chambers in the cave with a square shaped outer chamber and a ceiling of about 30 meters height. The inner chamber formations look like sentries conversing with one another, animals (including one which looked like a tortoise) and a formation resembling a general surveying his troops in the middle of the chamber. The light reflected from the water outside seems to bring these formations to life.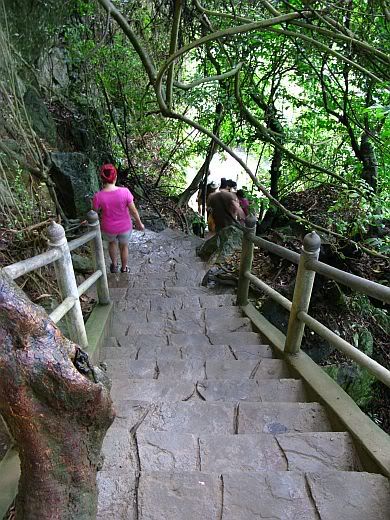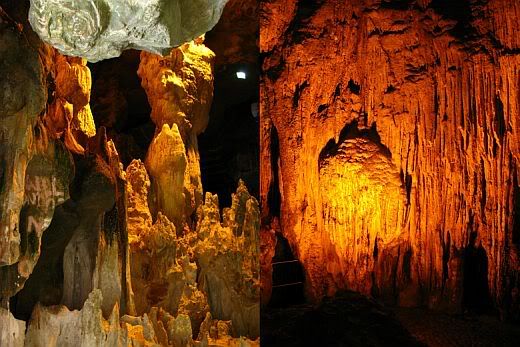 We thoroughly enjoyed our day trip at Halong and by the time we arrived back to the hotel it was just past 8.30pm.
Another day trip which we did whilst in Hanoi was to visit the Perfume Pagoda. It's a full day trip out to the countryside. The road trip would take about 2 hours covering 70km. Along the way we passed rice fields and the local farmers were harvesting their crops.

The Perfume Pagoda (or Chua Huong) is considered as one of the most important religious sites of Buddhism in Vietnam. It is not one temple but a cluster of temples and shrines located in the vicity. Perfume Pagoda is famous for the annual pilgrimage of Buddhists. Every year, between February and March, the Chua Huong festival draws hundreds of thousands of people from all over the country. Our journey would include a 60 minute boat ride along a scenic river. Unfortunately the day that we choose to do this trip was extremely hot and humid. The river itself is open and not shaded, so you really do not have any protection against the hot afternoon sun. Even with hats and sun-glasses it did not help much but luckily for me, I brought along a folded umbrella. It was more for the rain than sun, but it helped to provide us some shade.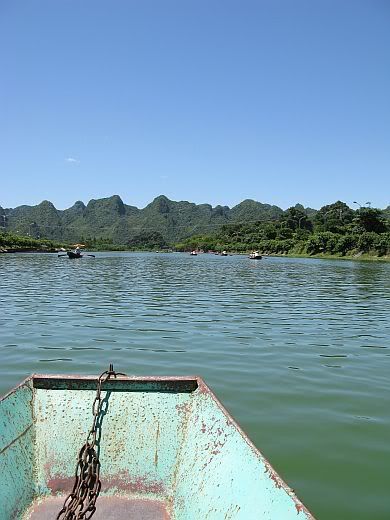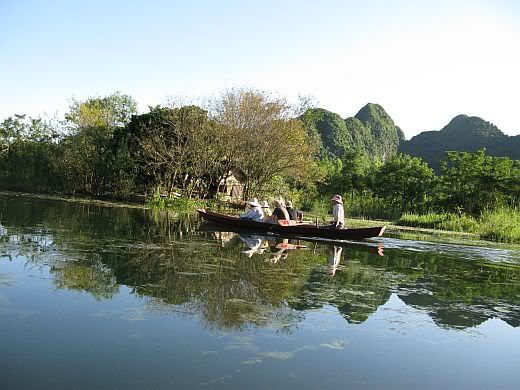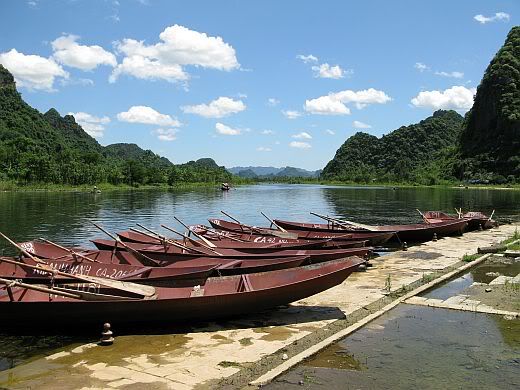 When we reached the other end of the river, it was time for a local Vietnamese lunch. There are two ways to get to the Perfume Pagoda which is located on top of a hill - either by cable car or a 4km up-hill trek lasting about an hour. Of all days the cable car had to be under maintenance! So trek it was along a crudely fashioned road made of uneven stone steps and paths. I think I must have lost about a kilo of prespiration by the end of the trek. Luckily the cable car was working on the return journey. Along the way to the summit, we passed a few temples and shrines, including the Thien Tru temple (or the Outer Temple).


The main attraction at the summit is a visit to the Huong Tich Grotto (or Inner Temple). The path to Huong Tich grotto is forged by nature through thousands of years of changes. Today, the path leading to Chua Trong is a series of smooth granite slabs stacking on one another creating a series of switch backs leading to the temple. A total of 120 steps descends downwards as the temple lies deep within the grotto. At the entrance to the grotto, there is "heaven's gate" (path to heaven) and "hell's gate" (descend to hell). As story goes, in the 18th century, Lord Trinh Sam had 5 words, "Nam Thien De Nhat Dong" meaning, "the most beautiful grotto under southern sky", carved onto the granite slab at the entrance to Huong Tich grotto. According to legend, the cave was discovered two thousand years ago. However, local people only began to place a shrine there in 1575, and later a larger temple was built. There are many colorful stalagmites and stalactites within the cave. Each is given a name for their distinctive features. It is believed that couples who wish for children often pay homage to Huong Tich grotto and to especially visit Nui Co and Nui Cau to pray for their first born.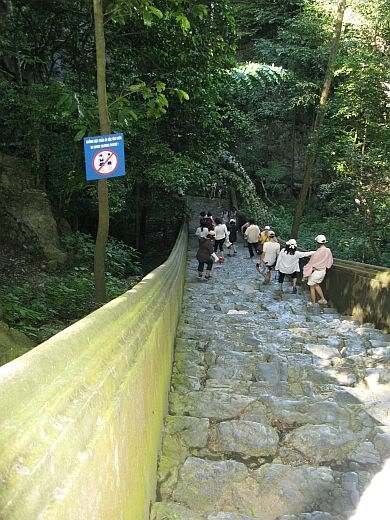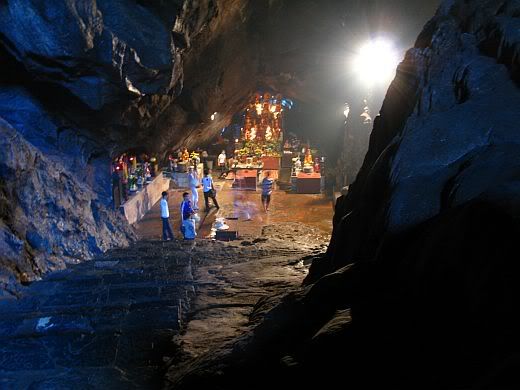 Whilst we were in Hanoi we also managed to sample some of their local street food. Surprisingly eating at restaurants or even having a latte in cafe bars is not really cheap. We happened to lug our mini notebook along with us on this trip - the hotel provides free wifi. So in the evenings, I would surf various websites, especially travel logs checking out the best street food in town.
Obviously when you mention Vietnam, the first thing that comes to mind would be the "infamous" pho. Pho (pronounced as "fef") is a Vietnamese beef and rice noodle soup from North Vietnam. The traditional pho is served with thin cuts of beef (steak, fatty flank, lean flank, brisket). This is called pho bo. It can also be served with sliced chicken meat and this is called pho ga. Although pho can be found in Southern part of Vietnam as well, I have been told that the pho served is different. The pho we are used to in Singapore is served with thinly sliced onions, fresh basil and beansprouts, which also happens to be the version found in the south. The broth is slightly darker as well. In Hanoi, the broth is very clear and is just served with slices of beef and spring onions. Average cost per bowl is VDN35,000 (Vietnamese Dong).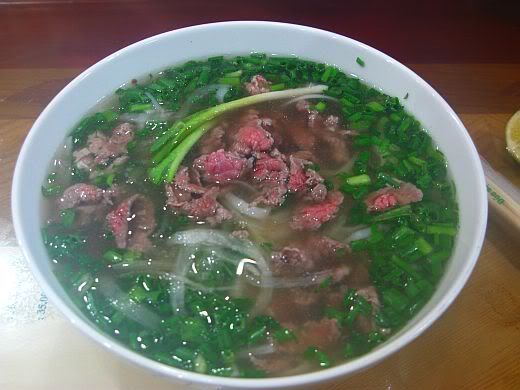 We also tried the famous Hanoi fried fish with fresh dill. This particular place we went to is the original birth place of this dish and it's the only dish that is served. Local name for this dish is Cha Ca La Vong and how appropriate for the restaurant to be located at 14 Cha Ca Street. When this local dish gained popularity, other shops started to spring up around Hanoi. However most tourist will tell you to go back to the original shop. I was skeptical about trying it out at first but believe me once you have, you want more. This dish can't be any simplier. It is made with chunks of freshwater fish seasoned with galanga and garlic, colored with turmeric to a warm golden hue, and grilled over charcoal for a smoky note. Then it is fried up with handfuls of fresh dill on a tabletop stove and served over thin rice noodles, shredded lettuce, chopped peanuts, and nuoc cham (dipping sauce). Cost per person excluding drink is VDN100,000. If you do not have a huge appetite, one portion is sufficient to be shared between 2 persons.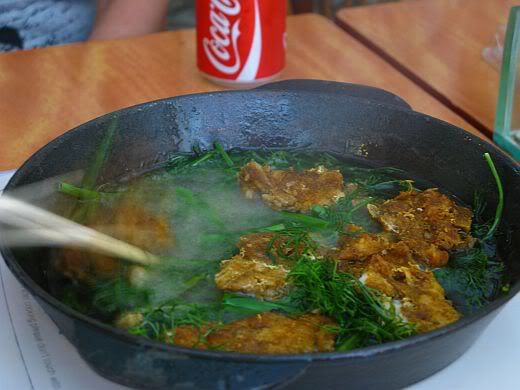 Another very popular dish in Hanoi and a must try would be Bun Cha. Bun cha is a lunch time meal. It consist of BBQ minced pork rolls teamed with charred slices of pork belly in a thin fish sauce, vinegar and sugar stock with sides of rice noodles and assorted greens and fresh herbs. Depending on season, either slices of green papaya or chayote (choko) are set afloat upon the stock. Simple, yes! But, miss this dish and you miss out - big time. I actually caught sight of this particular shop selling bun cha whilst exploring the streets of Hanoi. On our last day, we decided to have an early lunch there. We arrived at 10.30am but was told it would only open at 11am. We decided to walk a bit first and then go back again once they open. We were guided up the narrow stairwell to the 2nd floor. I believe this shop has 4 levels altogether. We ordered 2 portions and were served bun cha and a side dish of Nem Cua Bể(Fried Crab and Pork Spring Rolls). Lucky for me I had already seen a video on youtube as to how to eat this dish. Put a portion of rice noodles in your bowl, add some vegetables and herbs, and then scope some of the vinegar sauce into the bowl. Then add freshly chopped garlic and chillies and mix it all around. Eat the noodles together with the pork rolls. This shop is called Bun Cha Dac Kim and is located at No. 1 Hang Manh St., Hanoi. Total cost including one can drink was VDN130,000.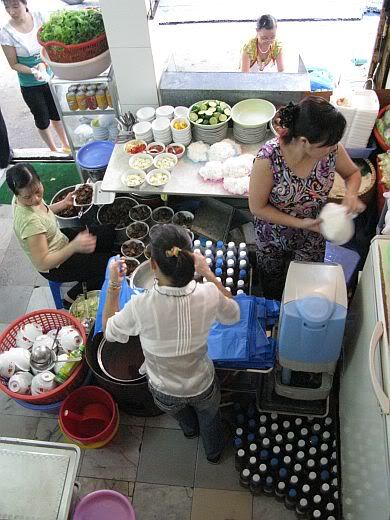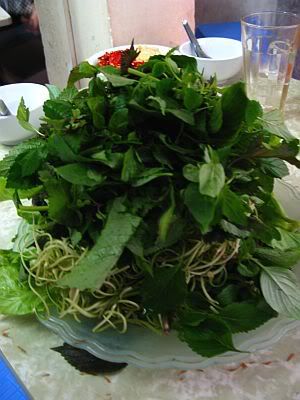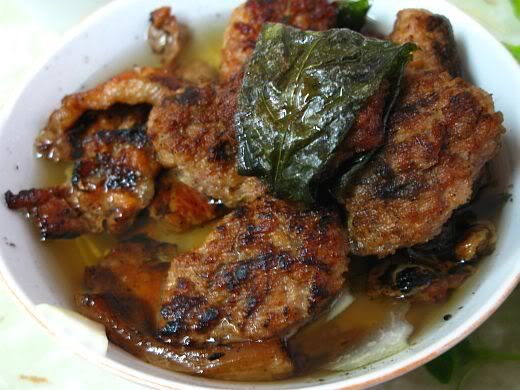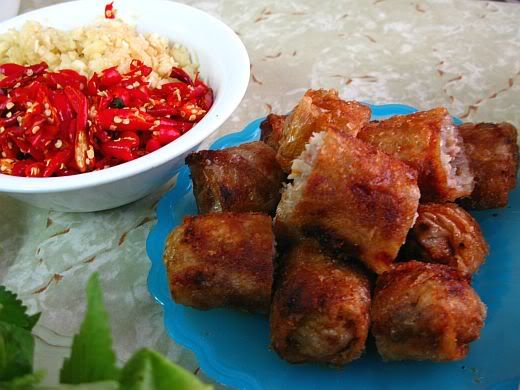 Another street food which can be found in Hanoi is Banh Cuon and is found in Northen Vietnam. Banh Cuon hails from Thanh Tri district just outside Hanoi. It is basically a freshly made steamed thin rice roll (similar to Hong Kong steamed rice rolls) and filled with mashed up minced pork, mushrooms and prawns. It comes served with sliced cucumber, cha lua (mortadella), beansprouts, sprinkled with deep-fried shallots and chopped mint with a nuoc mam (fish sauce) dip.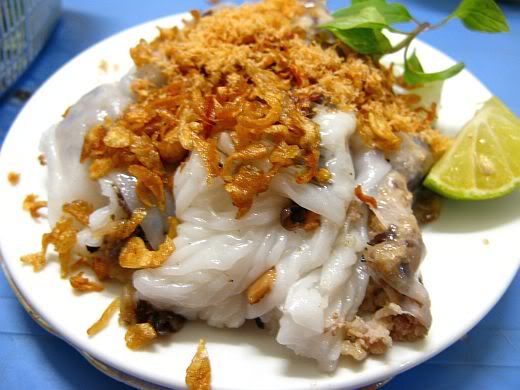 Banh xeo is Vietnamese style crepe with whole shrimp, thinly sliced pork and bean sprouts. The crepe is cooked in a special pan over high heat. It is so thin that the end result is a crispy rice pancake. This dish is a "do-it-yourself dish" that involves the messy but delicious process of wrapping the crepe with lettuce, cilantro, mint and basil into a thin crisp rice paper roll. The roll is then dipped into vinagrette that has sliced chillies and minced fresh garlic. This particular shop is found on No. 22, Hang Bo Street. The cost of 2 crepes was less than VDN15,000.

We also tried out some grilled pork satays which was found at the back alley to our hotel. Included with the platter was fresh sliced turnip and grilled dried cuttlefish slices which you would dip into a bowl of chillie sauce. The street vendor would give you a little stool to sit on whilst having your meal. Lots of locals were seated in the alley, munching on these grilled feasts and chatting the night away.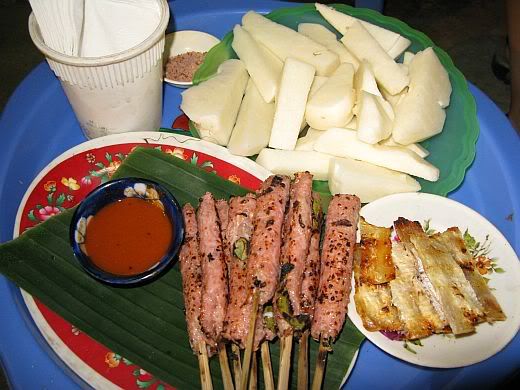 In all we really enjoyed our trip. Unfortunately there are lots of other local street food which we did not have a chance to try out.... maybe another trip!