I seriously do not know why this particular bread is called "Caterpillar Bread". Maybe because of the shape that looks like the bumps on the top of a caterpillar or maybe it looks like the legs of a caterpillar! Whatever it is, this particular bread seems to be sold in almost every other local bakery, be it a small neighbourhood one or the larger franchise. Some bakeries will sell this bread with a pork or chicken floss topping that has been drizzled with mayonnaise and tomatoe sauce. I know some of you will probably think what the heck is this! Honest to goodness, this particular style of bread is extremely popular not only in Singapore but also in Malaysia, Taiwan and Hong Kong.
Since discovering this recipe, I've made it twice already and everytime it has been enjoyed by my hubby. Why? Well firstly it has one of his most fav ingredients .. cheese. Secondly, it has his other fav ingredient ... sausage. They do say a way to a man's heart is through his stomach - this is absolutely true in my case where this bread is concerned.
The bread is not dense at all, in fact it is quite light and it makes a great snack either for tea time or morning breakfast. Since there is only the two of us in the household, I halfed the recipe, thus having to bake the bread in two batches only.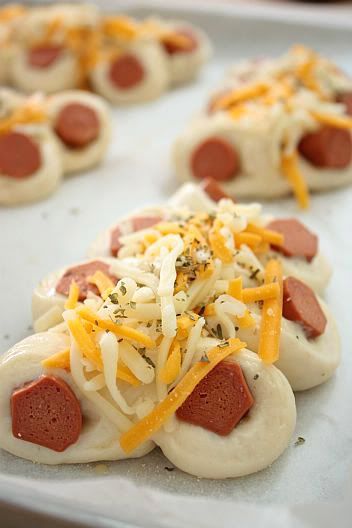 Caterpillar Bread
(makes about 22 pieces of bread)
For Basic Sweet Bun Dough:
3 cups (480g) bread flour, shifted
1 1/2 cups (120g) all purpose flour, shifted
1 pack rapid rise yeast (I used normal dried yeast)
8 tablespoons (110g) granulated sugar
4 tablespoons (20g) dry milk powder
300ml warm water (about 105F)
1 egg
1 tablespoon salt
5 tablespoons (60g) of unsalted butter, at room temperature
Sausages (I used frozen chicken sausage pack which I defrost)
Shredded cheese (a mixture of white and yellow cheddar cheeses)
Method:
1) Add yeast to warm water in a medium bowl, and set aside for 10 minutes.
2) In your mixing bowl, add the bread flour, all purpose flour, granulated sugar and dry milk powder. Attach your dough hook to your mixer and turn the speed to the lowest to combine all the dry ingredients.
3) Then slowly mix in the water + yeast mixture, with the mixer still on low. Mix for about 1 minute.
4) Beat an egg lightly in a small bowl. Add it to the softened butter. Then add in the egg and butter mixture to the dough. Mix well for about 8 - 10 minutes on low speed until the dough no longer sticks to the side of the bowl. The dough should be smooth and elastic. (If the dough seems a bit too wet, add a little bit of bread flour and mix in)
5) Remove dough from the mixer. Shape into a ball and place into a lightly oiled bowl. Turn the dough around to ensure that is is coated with the oi. Cover bowl with clingwrap and set aside to proof for 1 hour or until it doubles in size.
6) Once ready, try pressing a finger into the dough. It should leave a clear mark when it's ready. The dough can now be shaped.
To Shape the Dough:
1) Divide the dough into 70g pieces and mould them into balls. Let them rest for 10 minutes, then roll them into a flat oval shape with a rolling pin.
2) Put the sausage on the center of the dough and fold the dough into half. Lightly pinch to seal. Cut each folded dough into 7 - 8 small portions, leaving 1/3 from the sealed edges uncut. Ensure that the cuts are right across the sausage. (The dough should resemble a comb at this point.)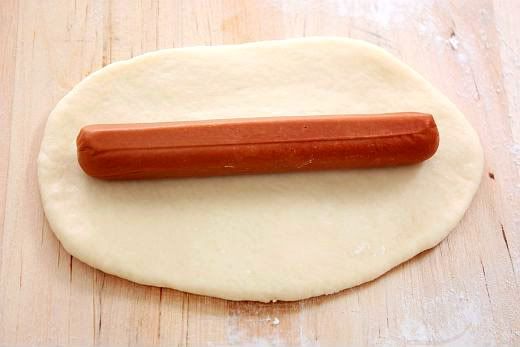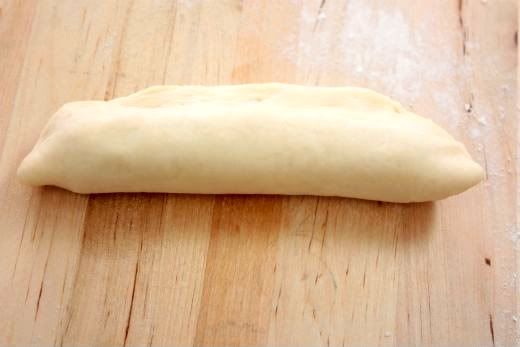 3) Twist first cut portion to the left, and second to the right, repeat this for the rest of the portions. Place the shaped dough onto a greased baking sheet and press each lightly. Place a clingwrap over the dough and let it proof for 45 minutes.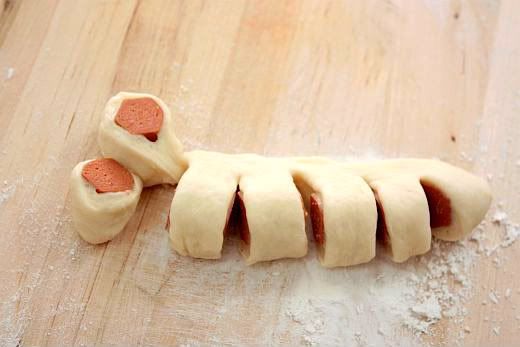 4) Brush with egg wash, and sprinkle the top of the dough with shredded cheese.
5) Bake in a preheated oven of 375F for 15-20 minutes or until the bread turns golden brown.