I love making oatmeal cookies and simply like the crunch of the oats in each bite. One great thing about an oatmeal cookie recipe is that you can add and substract the so-called condiments that go into the recipe. Such as a raisin oatmeal cookie. If raisin is not your favourite dried fruit, chuck it out and replace it with another dried fruit. How simple can it be.
This particular oatmeal cookie recipe originally used dried sour cherries. Unfortunately I've not seen a sour cherry sold in any of the bake shops I have visited. So I decided to use cranberries and the addition of white chocolate instead. You can say that I practically used whatever was available in my kitchen well within arm's reach. But heh, it worked out fabulously. In fact this cookie recipe is so delicious that I've made it a lot more than twice. And whenever I bake these, I make sure I put some away in a small jar and bring it office. Nothing like a quick munch whenever I get bored staring at spreadsheets.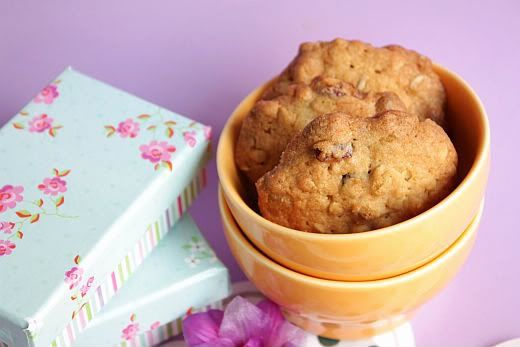 Cranberry White Chocolate Oatmeal Cookies
Recipe adapted from The Art & Soul of Baking
Ingredients
113g unsalted butter, softened at room temperature
1/2 cup of firmly packed light brown sugar (I reduced mine to 1/3 cup)
1/4 cup granulated sugar (I reduced mine by about 3 tablespoon)
1 large egg
1 tsp pure vanilla extract
1 cup all purpose flour
1/4 tsp baking soda
1/4 tsp baking powder
1/4 tsp salt
1/3 cup old fashion rolled oats (not instant)
1/3 cup dried cranberries (you can replace with any other dried fruit)
1/3 cup white chocolate chips (you can replace with dark chocolate if you like)
Method:
1) Preheat oven to 350F. Line baking trays with parchment paper.
2) Cream butter, brown sugar and granulated sugar in a stand mixer on medium speed. Beat until smooth and blended, about 2 minutes.
3) Scrape down the bowl and add the egg and vanilla extract. Beat for about 1 minute.
4) In a separate bowl sift together the flour, baking soda, baking powder and salt. Add to the butter mixture all at once. Turn mixer to lowest speed and blend slowly until there is no more patches of flour. Scrap down the bowl.
5) Add the oats, cranberries and chocolate. Blend on low speed until everything is incorporated. Remove and give it one final stir with a spatula.
6) Using a small ice-cream scoop or a tablespoon, drop the batter onto the baking trays. Make sure you spread each cookie about 2" apart.
7) Bake the cookies for about 13 - 15 minutes until the cookies are golden brown at the edges but still a bit pale in the center.
8) Transfer to cooking rack and let cookies cool completely before storing away. Keep cookes in an airtight container at room temperature for 3 - 4 days.
Note:

You can make the dough 3 days ahead and refrigerate it in an airtight container. Soften the dough slightly before scooping it out to bake.