Quite a number of bloggers seem to be baking Artisan Breads and its made me wonder what's all the fuss about! Having said that I was truly intrigued as the pictures of their creations were beautiful rustic looking loafs. This was how I ended up purchasing
Artisan Bread in Five Minutes
from Amazon (my favourite online bookshop).
This is my first recipe from this book and I even managed to find a video by
Jeff Hertzberg
demonstrating this recipe on a television talk show.
This a really, really easy recipe to do! And I'm not bluffing! If it's your first time attempting bread you may want to try this. No kneading is required. All the ingredients are dumped into one bowl, let the dough proof for a couple of hours and then chuck the whole thing into the fridge for one night. The next day remove the dough from the fridge, shape it, let it proof again and then bake. What more could a baker ask for! I even left the dough in the fridge for 3 nights before baking it. I shaped the dough into one large loaf and was proofing it for about 30 minutes before I realized that I was not satisfied with the shape. I grabbed the proofing dough, punched it down again and reshaped it into 3 separate loafs. I wasn't sure if the dough could take such treatment after this ... but guess what! It did! I was totally amazed and the loafs turned out exactly as they should have.
The crust is nice and crisp and chewy, and the longer the dough sits, the more it develops a sourdough flavor. The dough can be used for other types of bread by adding dried fruit, nuts or sprinkle oats on top for a farmer's loaf. You can even use the dough for pizzas or naans.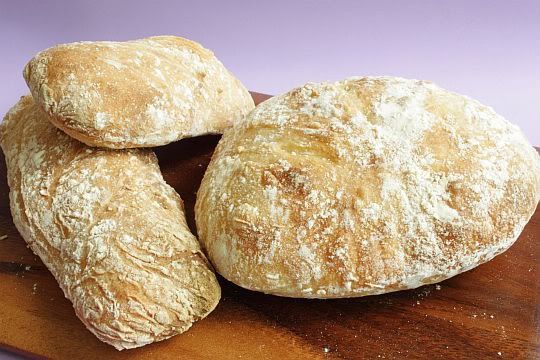 Quick and Easy Artisan Bread
Recipe from "Artisan Bread in Five Minutes"
(makes about 4 medium loafs)
Ingredients:
3 cups of lukewarm water
1 1/2 tablespoons active dry yeast
1 1/2 tablespoons coarse salt
6 1/2 cups all-purpose flour
Method:
1) Grab a very large mixing bowl, or a large container that you can cover. In it, mix the water, yeast, and salt. Just let that sit together for about 5 minutes. Then dump the flour all at once and stir with a wooden spoon. You don't need to knead this, and you're not looking to make it come together into a dough ball. You just want everything mixed well, with no streaks of flour left, and you're done.
2) Leave it in your container, covered (but not airtight, or it'll pop), for about 2 hours. When it has risen and then deflated a bit, your dough is done. It's ready to be used or stored in the refrigerator.
To bake the Bread:
1) Just grab a chunk of dough (they recommend a chunk about the size of a grapefruit, but you can use larger chunks). Dust your hands with flour to help prevent sticking, dust the dough with flour and gently pull the sides of the dough toward the bottom, rotating the dough, until you get a roundish shape with a smooth surface. It should only take you about a minute or less to do this. The dough won't be entirely in the bottom, where it may look bunched up, but don't worry about it.
2) Put the dough onto a baking sheet or tray that's been dusted with cornmeal to prevent sticking, and let it rest for at least 40 minutes. No need to cover it. If the dough has been refrigerated, it helps to let it rest a little more, until it's no longer chilled.
3) Twenty minutes before you are ready to bake, put a pizza stone or baking sheet in the middle rack of your oven, and put a broiler pan in the bottom rack. Preheat your oven to 450 degrees. Dust some flour on the top of your loaf, and make some slashes on the dough, about 1/4-inch deep. (Unfortunately I didn't slash deep enough which is my the end result looks flat)
4) After twenty minutes of preheating, it's time to bake. (You can put the bread in after 20 minutes, even if your oven hasn't reached 450 degrees yet.) Slide the loaf onto the baking stone or sheet, and then quickly pour 1 cup of hot tap water into the broiler pan. Then quickly shut the oven door to keep the steam inside.
5) Bake for 30 to 40 minutes, until you get a nice brown crust. It tastes best when you let it cool completely. Don't worry if your beautiful crust seems to soften a bit. It will harden again.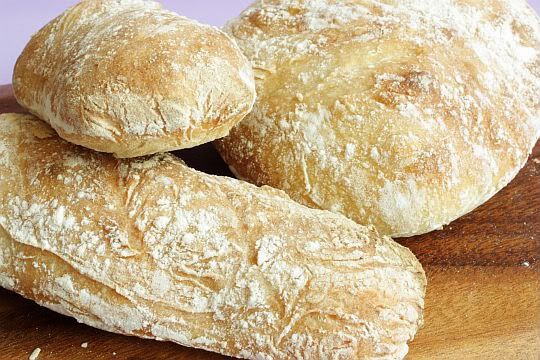 I served my slices of Artisan Bread with a smear of tapenade and topped it with a simple salad made of cherry tomatoes, diced red onions and cucumber and seasoned it with black pepper, salt, fresh basil, balsamic vinegar and olive oil. It made a great Sunday brunch!