My sister sent me an email a few days ago with this story. After reading it, I thought it was extremely meaningful and wanted to share this with you.
In April, Maya Angelou was interviewed by Oprah on her 70+ birthday. Oprah asked her what she thought of growing older.

And, there on television, she said it was 'exciting...'

Regarding body changes, she said there were many, occurring every day.....like her breasts. They seem to be in a race to see which will reach her waist, first.

The audience laughed so hard they cried. She is such a simple and honest woman, with so much wisdom in her words!

Maya Angelou said this:

'I've learned that no matter what happens, or how bad it seems today, life does go on, and it will be better tomorrow.'

'I've learned that you can tell a lot about a person by the way he/she handles these three things: a rainy day, lost luggage, and tangled Christmas tree lights.'

'I've learned that regardless of your relationship with your parents, you'll miss them when they're gone from your life.'

'I've learned that making a 'living' is not the same thing as making a life.'

'I've learned that life sometimes gives you a second chance.'

'I've learned that you shouldn't go through life with a catcher's mitt on both hands; you need to be able to throw some things back...'

'I've learned that whenever I decide something with an open heart, I usually make the right decision..'

'I've learned that even when I have pains, I don't have to be one..'

'I've learned that every day you should reach out and touch someone. People love a warm hug, or just a friendly pat on the back...'

'I've learned that I still have a lot to learn..'

'I've learned that people will forget what you said, people will forget what you did, but people will never forget how you made them feel.'
If you think this story is worthwhile to share around, by all means please do so.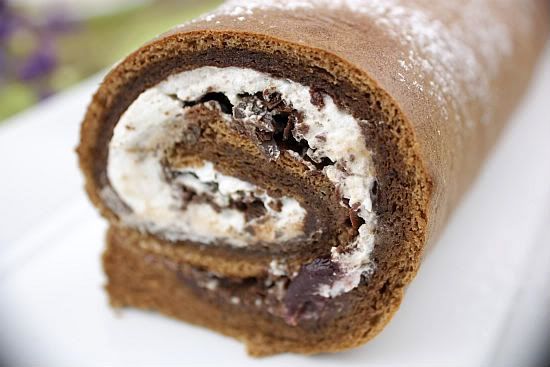 Blackforest Chocolate Swiss Roll
Recipe Adapted from Creative Culinaire
Ingredients for the Cake Roll:
100g cake flour
1 tsp baking powder
15g cocoa powder
1/4 tsp baking soda
50g caster sugar
1/4 tsp salt
60g vegetable oil (like corn oil or canola oil)
75g water (at room temperature)
5 eggs (60g per egg), separate the yolks from the whites
1/4 tsp cream of tartar
70g caster sugar
Method:
1) Grease a full size jelly pan and line with parchment paper. Preheat your oven to 200C.
2) Sift together cake flour, baking powder, cocoa powder, salt and baking soda into a clean bowl and set aside.
3) In another bowl, whisk by hand the egg yolks, 50g sugar, oil and water until the mixture is light in colour and slightly thicken. This should take about 1 minute.
4) Add the flour mixture to the egg and whisk until smooth. Set aside.
5) In a clean bowl whip the egg whites until slightly frothy. Then add in the cream of tartar and continue to whip for about 1 minute. Then add the remaining 70g sugar and continue to whip until stiff peaks.
6) Fold 1/3 of the egg meringue into the yolk mixture. Fold gently until mixed well. Then add in the remaining 2/3 meringue and continue to fold gently using either a whisk or spatula. Fold only until the white streaks have disappeared. Do not overfold or you may deflate the batter.
7) Pour into the lined jelly pan and smoothen the top to ensure an even surface. Bake for 10 - 15 minutes or until the top is golden brown. Check at 10 minutes baking time - do not over bake or your roll will become hard.
8) Remove from oven and let cool for about 15 minutes before removing parchment paper. The roll should be completely cool before adding the whipped cream.
To Assemble:
1) Trim off the sides of the roll to have clean lines. Place the roll on top of a clean sheet of parchment paper. Place one side of the long end of the roll at the edge of the parchment. This will allow you to roll the jelly roll easily.
2) Spread the roll with some chocolate ganache. Leave a border around the edge. Then spread some whipped cream on top of the ganache. Sprinkle canned sweet cherries randomly on top of the cream.
3) Using the end of the parchment paper, start to roll away from you. Keep the roll tight as you continue to roll. Once you have finished use the parchment to wrap the entire jelly roll and place it into the refrigerator to set for about 3 hours.
4) To serve dust the roll with some icing sugar.