I have read that Butter Cereal Prawns is a dish concoted in Singapore. I'm not sure if this is true or not but it definitely has gained a following in seafood restaurants. The essence of this dish is deep fried prawns and the crispy cereal. If you think it sounds weird, believe me once you taste this dish you wouldn't think so at all. Heh if you can have cereal in say a cookie, why not in a savoury dish!
However I must confess that I did a shortcut with this dish. I bought ready made cereal prawn mix in a packet. If you are in Asia, you should be able to get this in your regular supermarket. If you are not in this part of the world, you may be able to get a pack in your local Asian grocery shop.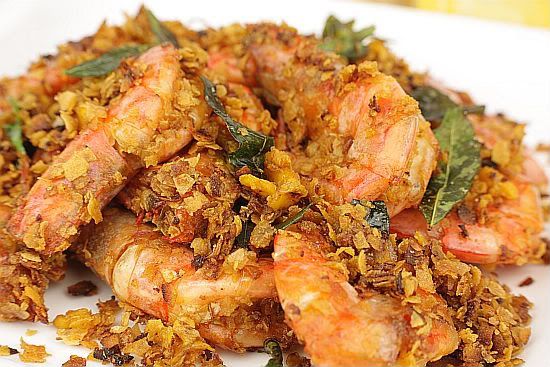 Butter Cereal Prawns
Serves 3-4
Ingredients:
1 packet of store-bought cereal prawn mix (found in Asian groceries - I used Singlong brand)
2 sprigs curry leaves
350g large prawns
3 large egg yolks, lightly beaten
2 chilli padi (bird's eye chilli), sliced thinly
30g butter
vegetable oil for deep frying
Method:
1) Using a pair of kitchen scissors cut off the legs and trim the heads and tails slightly.
2) Using a very sharp knife slit across the top of the prawn and pull out the veins. Leave the shell and heads intact.
3) In a wok, add enough oil to cover the prawns. Once the oil is hot, add the prawns and deep fry until cooked. Remove the prawns and set aside.
4) Melt butter in the wok, add the curry leaves and fry for about 30 seconds. Then add in the egg yolks and fry until cooked. Then add in the cereal mix and quickly fry until fragrant. Lower the fire to prevent the cereal from burning.
5) Then add back the cooked prawns and coat entirely with the cereal. Serve hot.