When I was making cookies last year as Christmas give-aways I came across a recipe called Chocolate Mexican Cookies which looks very much like these Crackle Cookies. I was very tempted then to try them out but unfortunately did not. I believe these cookies also go by the name of Chocolate Snowball Cookies.
I guess I totally forgot about this cookie until I borrowed "The Baker" from the local public library. In the cookie section of the book, I found a recipe called Crackle Cookies which looks very much like the Chocolate Mexican Cookies. I decided to it out because it looked so pretty. Instead of making half batches as I usually do when trying out new recipes, I made the full batch and I was thoroughly glad that I did! The cookies were absolutely delicious. They had a crunchy topping because of the icing sugar coating but the insides were soft and slightly chewy. It reminded me a bit of a chocolate brownie cookie. I brought a full cookie jar to my office and within three days they had all but disappeared. This is definitely one recipe for keeps!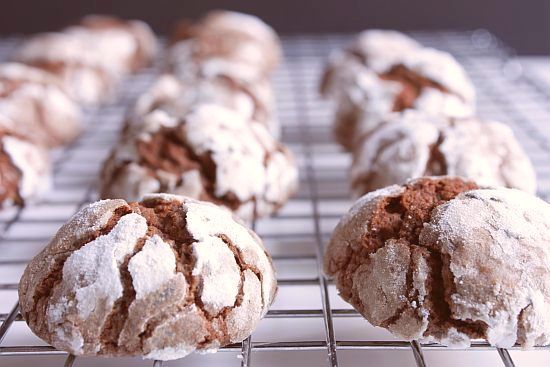 CRACKLE COOKIES
(Makes about 60)
Recipe Adapted from "The Baker by Leanne Kitchen"
Ingredients:
125g unsalted butter, softened
350g soft brown sugar
(sugar has been reduced slightly)
2 eggs
1 tsp vanilla extract
70g good quality dark chocolate, melted
80ml (1/3 cup) milk
340g plain flour
2 1/2 Tbsp unsweetened cocoa powder
2 tsp baking powder
1 tsp ground allspice
1/2 tsp cinnamon
2/3 chopped almonds (or almond nibs)
1/4 tsp salt
Icing sugar for dusting
Method:
1) Cream butter and brown sugar until light and fluffy.
2) Add the eggs, one at a time, beating well after each addition.
3) Stir in vanilla, melted chocolate and milk
4) Sift the flour, cocoa, baking powder, salt, allspice and cinnamon into the butter mixture and mix to incorporate. Stir in the almonds and stir. Do not over mix.
5) Place the cookie dough into the refrigerator for about 3 hours.
6) Preheat oven to 180C. Line baking trays with parchment paper.
7) Sift icing sugar onto a plate.
8) Using a small ice-cream scoop, drop cookie dough onto the icing sugar. Roll and coat entire dough ball.
9) Place dough onto baking tray, spacing them apart to allow the cookie to rise.
10) Bake for bout 20 – 25 minutes until lightly brown and firm,
11) Remove from oven and leave to cool on the trays before removing. Store in tightly sealed containers. Crackle cookies will last for a week, stored in a cool place.