I was recently asked by a close girlfriend of mine to make an 8" fondant cake and a larger sponge cake for her daughter's 9th birthday as well as her first holy communion. The event was last Sunday and would be held at the church premise after Sunday mass. After thinking about of a design that would be nice for a little girl, I settled on a garden theme. And for the larger cake it was a vanilla sponge cake with sliced fresh strawberries in between the layers covered with fresh whipped cream. The strawberry cake had great reviews because it was extremely soft and light. I had to run to a couple of supermarkets just looking for strawberries … luckily I managed to get some as they are currently off season. I had even thought about using frozen ones but it would likely have compromised the texture of the cake.
The fondant cake was a banana chocolate fudge cake which I had made on several other occasions. I added another half of the recipe to enable me to bake a two layer 8" cake which suited this order nicely. This particular recipe is absolutely easy to put together. You just need to weigh out all the ingredients and then incorporate them together in one large bowl. I didn't even have to take out my cake mixer for this job – a wooden spoon or a whisk (which was what I used) will do the job. Don't get thrown off if the batter looks watery .. it's suppose to be like this. This will result in a very moist fudgy cake.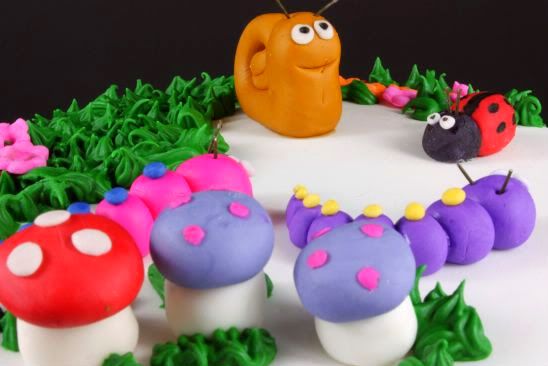 Chocolate Banana Cake
Recipe Adapted from Rodmell, Jane. Best Summer Weekends Cookbook. Cottage Life Books. Toronto: 2004
(Serves 16)
Ingredients:
2 cups (400 grams) granulated white sugar (I reduced this to 1 1/2 cups)
1 3/4 cups (245 grams) all-purpose flour
3/4 cup (75 grams) cocoa powder
1 1/2 teaspoons baking powder
1 1/2 teaspoons baking soda
1/2 teaspoon salt
2 large eggs
1 cup mashed ripe bananas (about 2 - 3 medium sized bananas)
1 cup (240 ml) warm water
1/2 cup (120 ml) milk
1/2 cup (120 ml) corn, safflower or canola oil
1 1/2 teaspoons pure vanilla extract
Chocolate Ganache Frosting:
8 ounces (227 grams) semisweet or bittersweet chocolate, cut into small pieces
3/4 cup (180 ml) heavy whipping cream
1 tablespoon (14 gram) unsalted butter
Method for the Cake:
1) Preheat oven to 350 degrees F (180 degrees C) and place rack in the center of the oven. Butter, or spray with a non stick vegetable spray, a 9 x 13 inch (23 x 33 cm) pan. Set aside. (My recipe was 1.5 times of original and I could manage 2 layers of 8" cake)
2) In a large bowl whisk together the sugar, flour, cocoa powder, baking powder, baking soda, and salt. Set aside.
3) In another large bowl, whisk together the eggs, mashed bananas, water, milk, oil, and vanilla extract. Add the wet ingredients to the dry ingredients and stir, or whisk, until combined. You will notice that the batter is quite thin. Pour the batter into the prepared pan and bake for about 35 to 40 minutes or until a toothpick inserted in the center of the cake comes out clean.
4) Remove from oven and let cool on a wire rack. When completely cooled, frost with the Ganache.
Method for the Ganache:
1) Place the chopped chocolate in a medium sized stainless steel, or heatproof bowl. Set aside. Heat the cream and butter in a medium sized saucepan over medium heat. Bring just to a boil.
2) Immediately pour the boiling cream over the chocolate and allow to stand for 5 minutes. Stir until smooth. When Ganache has completely cooled, beat until soft and fluffy. Then spread the frosting on top of the cake.