I happened to be at Merlion Park on Wednesday evening and it was a wonderfully cool evening as well. I could not resist joining the tourists who were there snapping their cameras away. I too had brought mine along with my tripod and snapped along with the crowd. I had not been there for a very long time and took this opportunity to take in the sights of the Marina Bay area.
The Merlion Park is located near Marina Bay, Singapore. This park is a popular tourist attraction. At the Merlion Park, a 40 tonne statute of a creature which is half lion and half fish sprouts an endless jet of water from its jaws. This creature has become the famous landmark of Singapore, the Merlion.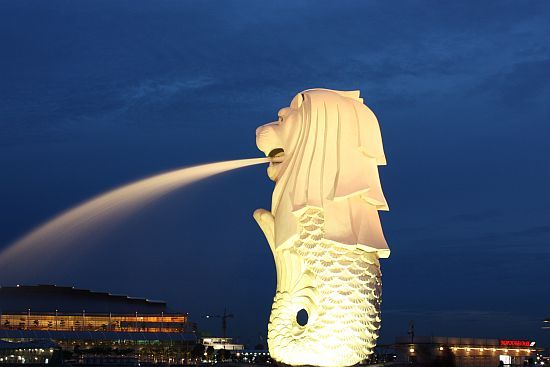 Just behind the Merlion, The Fullerton Hotel Singapore could be seen. The Fullerton Hotel Singapore is a five-star boutique hotel located near the mouth of the Singapore River, in the Downtown Core of Central Area, Singapore. It was originally known as The Fullerton Building, and also as the General Post Office Building before being refurnished to become a hotel.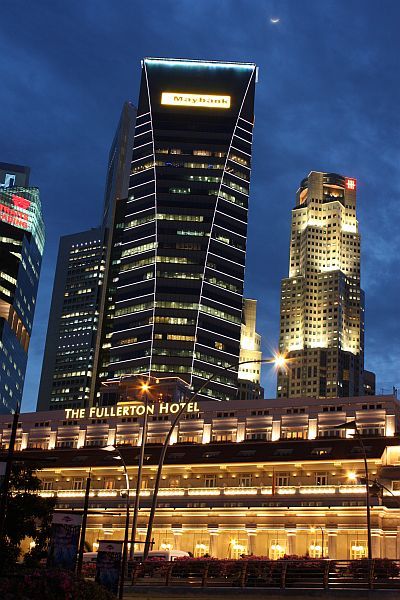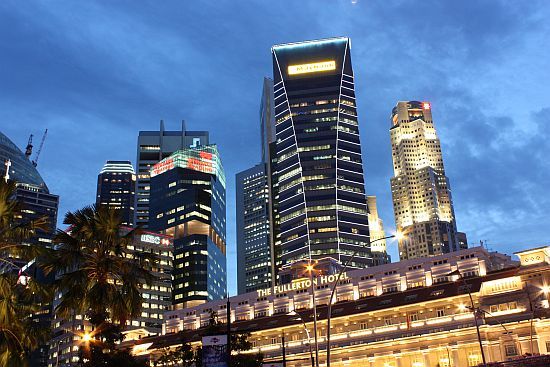 The famous structure of the Singapore Esplanade (or fondly known by Singaporeans as "The Durian" due to its roof which resembles the spikes of a local well loved fruit) is also another tourist feature which is nearby, You definitely cannot miss this building when you are at the Merlion Park. The Singapore Esplanade is the melting pot of arts, music and drama, where overseas and local performances are staged. The Esplanade is probably as significant as the Sydney Opera House is to Australia.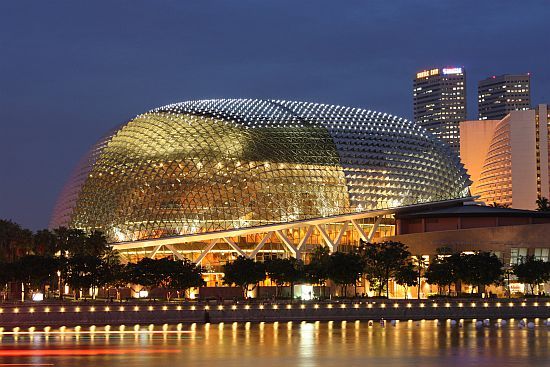 Nearby you would be able to see a few hotels namely the Pan Pacific Hotel and the Marina Mandarin Hotel.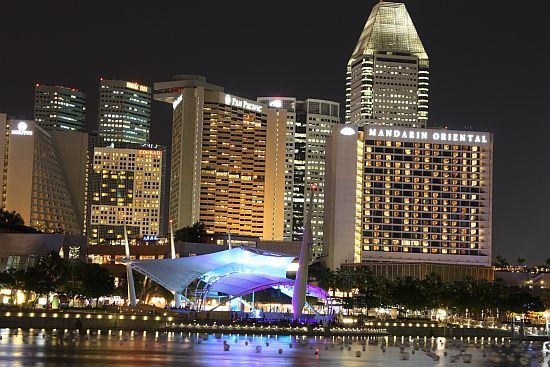 Right across the Marina Bay is Marina Bay Sands. Developed by Las Vegas Sands, it is billed as the world's most expensive standalone casino property at S$8 billion, including cost of the prime land. Marina Bay Sands features three 55-storey hotel towers which were topped out in July 2009. The three towers are connected by a 1 hectare sky terrace on the roof, named Sands SkyPark.