I have not baked for a long while now and was in the mood to do so after coming home from work. I wanted to make something that was quick and didn't take too long in the kitchen. Something which didn't require creaming and one of the recipes which fall into this category would have been a brownie. However I wanted something different, not the usual chocolate brownie and decided to try my hand at a cheesecake brownie. I love the swirl look of this dessert, coupled with the fact that it is intensely chocolatey, not forgetting you have the cheese element thrown in as well.
This recipe comes from "Ready for Dessert" by David Lebowitz, one of my recent acquisitions to my baking library books. You can serve this brownie with a scoop of vanilla ice-cream or just eat it on its own. Great with a cuppa coffee that's for sure! As usual my office colleagues benefited from my baking evening and they gave the thumbs up for this brownie.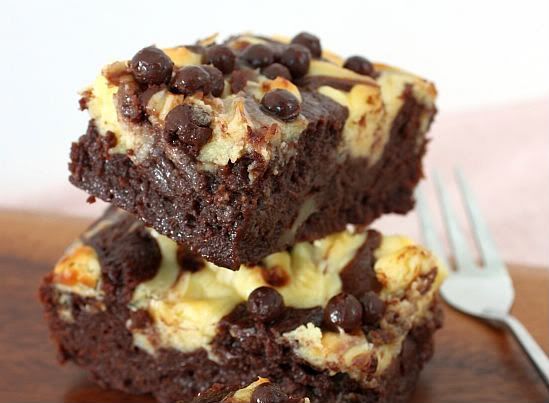 Cheesecake Chocolate Brownies

One 9-inch (23cm) or 8-inch (20cm) square pan
Adapted from "Ready for Dessert by David Lebowitz"
Ingredients:
85g unsalted butter, cut into pieces
110g bittersweet chocolate chips
110g sugar (reduced from original recipe)
2 large eggs, at room temperature
70g plain flour
1 Tbsp unsweetened cocoa powder
1/8 tsp salt
1 tsp vanilla extract
1/2 cup Valhora chocolate pearls, for sprinkling
1/4 cup roughly chopped pecans
For the cheesecake topping:
200g cream cheese, at room temperature
1 large egg yolk
60g sugar (reduced from original recipe)
1/8 tsp vanilla extract
Method:
1) Line a 9-inch (23cm) or 8-inch (20cm), for a higher brownie square pan with foil, making sure it goes up all four sides. Use two sheets if necessary. Mist with non-stick spray or grease lightly.
2) Preheat oven to 350 degrees (180C).
3) In a medium saucepan, melt the butter and chocolate over low heat, stirring until smooth. Remove from heat and beat in the sugar, then the eggs.
4) Mix in the flour, cocoa powder and salt, then the vanilla and pecans. Spread evenly in the prepared pan.
5) In a separate bowl, beat together the cream cheese, the yolk, 5 tablespoons (75g) of sugar, and vanilla until smooth.
6) Distribute the cream cheese mixture in eight dollops across the top of the brownie mixture, then take a dull knife or spatula and swirl the cream cheese mixture with the chocolate batter. Sprinkle the top with the chocolate pearls.
7) Bake for 35 to 40 minutes, or until the batter in the center of the pan feels just set.
8) Let cool, then lift out the foil and peel it away. Cut the brownies into squares.
Storage: These will keep in an airtight container for a couple of days. They also freeze well, too.