In Thai cooking, their curries come in two different types of bases, coconut based and water based. You would be surprised to find that the spiciest of the two is actually water based curries. The most typical water-based curry is sour curry (gaeng sohm plah) often prepared with fish. Thai coconut-based curries are numerous and the more well known curries are red, green, yellow, panang and masamam curries.
I personally think most people would be more familiar with a Thai green curry dish as compared with a Red curry one. The flavours are quite different. If you are making the paste at home, you can reduce the number of chillies used to get a milder heat. If you like it hot, you can add a couple of bird's eye chillies as well. A variety of meats could be used to cook this curry such as pork, beef, chicken and even roasted duck, cut into bite size pieces.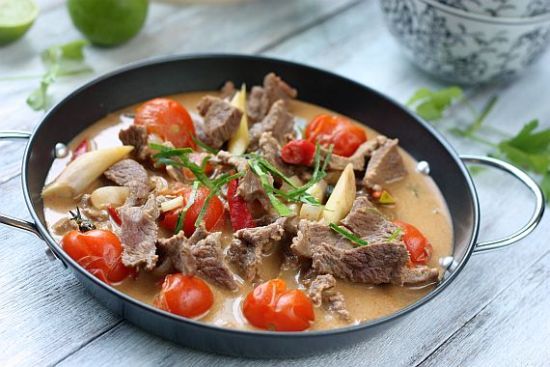 Thai Red Curry with Beef (Phat Phet Neua)
Serves 4
Ingredients:
300g good quality lean beef, thinly sliced
3 Tbsp cooking oil
4 Tbs packaged red curry paste or homemade(recipe below)
200ml (just under 1 cup) thick coconut milk or cream
1/2 cup of water or stock
8 cherry tomatoes, leave whole
5 peeled shallots, sliced thickly (use can use small onions)
2 lemongrass sticks, use the while part only, thickly sliced
6 kaffir lime leaves, stems removed, thinly sliced
1 fresh red chilli, thinly sliced
Small handful of coriander or chinese celery leaves, roughly chopped
Method:
1) Put the oil into a wok and when it is hot add the red curry paste and fry for 1-2 minutes. Then add half the thick coconut milk and fry for half a minute
2) Add in the shallots, lemongrass, lime leave and red chilli. Stir the fresh spices and then add in the beef.
3) Add in the water or stock and bring to a boil. Cook the curry for about 10 minutes on medium simmer.
4) Add the remaining coconut cream and the tomatoes. Bring to a boil. Season to taste with fish sauce and palm sugar. Cook for a further 4 - 5 minutes. Just before turning off the fire, throw in the coriander leaves and stir it into the curry.
5) Serve hot with steaming white rice.
Red Curry Paste (Nam Prik Gaeng Phet)
1 tsp shrimp paste
1 Tbsp coriander seeds
1/2 tsp cumin seeds
15 dried chillies, deseeded and soaked in warm water
1 stalk lemongrass, white part, finely sliced
2 tsp chopped shallots
1 clove garlic, minced
1 tsp grated galangal
1 Tbsp freshly ground black pepper
2 kaffir lime leaves, sliced
1 tsp kaffir lime zest, finely choppped
1 tsp salt
Method:
Pan fry the shrimp paste until fragrant. Toast the coriander and cumin seeds. Add all the ingredients in the food processor and grind until it becomes a fine paste. Store in the refrigerator. Will keep for about a week.