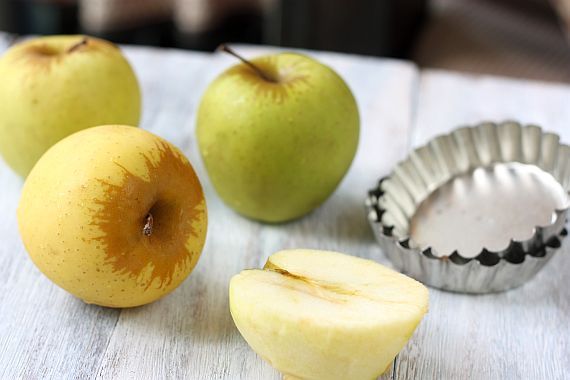 The best thing about making desserts from apples is that we get the fruit all year round. The apple fruit is believed to have originated from Asia and did you know that there are more than 7,000 varieties of apples which are available worldwide. The fruit is grouped mainly into three categories - cider, cooking and dessert varieties. They are a rich source of vitamins A and C, potassium, fiber and carbohydrates.
Now how can you tell if an apple is good or not? Check by looking at the exterior of the apple - it should be smooth, and free of bruises or cuts. The firmness of the apple is proof of its sweetness. Storage of the apples in an important aspect and care should be taken to store them in a cool and dry place, wrapped in a poly bag. I usually keep my apples in the vegetable compartment of my refrigerator.
The top five most popular apples which you would usually find in your neighbourhood supermarkets are the Red Delicious, Golden Delicious, Gala, Fuji and Granny Smith. Each type of apple has it's own unique sweetness, texture, shelf life and flavour in a cooked or baked dish. And all of these are equally good eaten on it's own.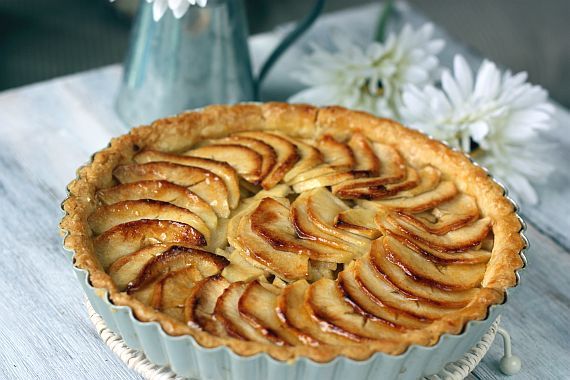 I made this apple tart from a book I had borrowed which centered solely on tarts, both savoury and sweet. The recipe was easy enough and the picture enticed me further. I've very much driven by pictures and presentation whenever I try out a recipe. This tart recipe works extremely well with Golden Delicious as this particular apple can withstand long baking times and is great when made into applesauce. (You could substitute with another flavoured apple but if using Granny Smith, the entire taste would be altered) It is a subtle fragrance which can be smelled when the tart is being baked in the oven. The apple slices did not dry out at all in the oven and the end result was a very moist, delicious apple tart.
Tarte Aux Pommes (French Apple Tart)
Recipe Adapted from Tarts – Sweet & Savoury by Maxine Clark
Serves 6 – 8
Ingredients
:
1 recipe Pate brisee
Apple Filling
:
4-5 Golden Delicious (or good well flavoured apples), peeled and cored
3 Tbsp brown sugar
½ tsp cinnamon powder
50g cold unsalted butter, cubed
4 – 6 Tbsp apricot jam
Method:
1) Bring pastry to room temperature. Preheat oven to 200C and put a baking sheet in the oven to heat up.
2) Roll pastry thinly on a lightly floured work surface and line a 25cm loose based tart tin. Chill tart shell for about 30 minutes.
3) Slice apples thinly and coarsely chop up the uneven smaller pieces. Arrange the smaller pieces in the base of the tart shell. Cover the one third of the slices in a circular pattern. Arrange the remaining in a concentric rings over the chopped apples. Sprinkle the sugar and cinnamon powder all over the sliced apples. Then dot with the cubed butter.
4) Set the tart tin on the baking sheet and bake for about 45 mins to an hour until the apples are very well browned and the pastry golden in colour. Remove from the oven and cool for 10 minutes before removing from the tart tin.
5) Brush the top of the tart with apricot jam which had been warmed in a microwave oven. Serve the tart at room temperature.
PATE BRISEE
200g plan flour
½ tsp of salt
125g unsalted butter, softened
1 large egg yolk
2 – 3 Tbsp iced water
Method:
1) Sift flour and salt in a bowl, set aside.
2) Put the butter and egg yolk in a food processor and blend until smooth. Add the water and blend again.
3) Add the flour and salt, and pulse until mixed.
4) Transfer mixture to a light work surface and knead gently until smooth. Form into a ball, flatten slightly and wrap in clingwrap.
5) Chill the dough for about 30 minutes. Return to room temperature before rolling out.