I was having a chat with some friends recently and comparing notes about the types of bread we would usually bake. Just from that one conversation it had inspired me to make some brioche over the weekend. I usually find home-made breads tend to toughen a bit the next day and because of this I would half the recipe so that I can experiment, especially if it is a new recipe, and don't end up having lots of leftovers.
A brioche seemed to fit perfectly into the scene of things and instead of making a loaf, I fashioned the dough into buns. I added dried cranberries as well as I love dried fruit in sweet breads. These buns make for great tea-time snacks or breakfast. Left overs can be frozen in the freezer or you could tear it up in pieces for a bread and butter pudding. Yummy that's all I can say.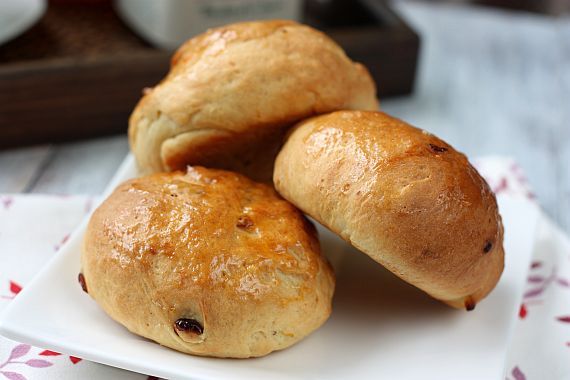 Cranberry Brioche Buns
Ingredients:
230g bread flour
7g dried instant yeast
2 eggs
50ml of milk (warmed slightly)
20g sugar
1 tsp salt
140g unsalted butter, softened
Zest from one orange
1/2 cup firmly packed dried cranberries (or any other dried fruit)
1 tsp orange extract (or substitute with vanilla extract)
1 egg yolk diluted in a little water for brushing
Method
:
1) Sprinkle the yeast in milk and leave to rest for 10 minutes.
2) Sift flour into your mixer bowl. Then add in the eggs, sugar, salt, orange oil, zest and milk/yeast mixture.
3) With the hook attachment, knead until it forms a homogeneous mixture (about 3 to 4 minutes)
4) Add the butter gradually, while beating, until completely incorporated into the batter. Then add in the cranberries.
5) Beat at medium speed for about 15 minutes or until dough is released from the walls of the cup. (Add a little bit more flour if required)
6) Grease a pan with butter and line with cling film or greaseproof paper.
Pour the batter into the pan, cover with cling film and let it rise for about an hour or until double in size.
7) Punch the dough down and reshape into buns. You may want to weight each small ball of dough to get a uniform size. Shape into small buns and place onto baking trays lined with parchment paper. Cover with cling film and leave to rise for another 40 mins.
8) Preheat the oven to 190C. Brush the buns with a little milk and then bake for about 15 minutes. Check for doness by tapping the bottom of the bun - it should sound hollow.
9) Remove from oven, cool slightly and then serve with jam, cream cheese or butter.