I made this cake ever so long ago and really have no excuse for not posting it up until now. I love desserts with citrus fruit and especially more so if it is lemon.
What I like about this cake is that it uses different texture of flour. The cornmeal gives the cake crumbs a nutty taste quite akin to a semolina (sugee) cake. However if you don't have semolina or cornmeal, you can use self raising flour instead. It will end up tasting more like a citrus butter cake then. The other thing I like about this recipe is that it has a lemon curd that is baked with the cake batter. You would usually think of using lemon curd as a frosting in between layers or on top of the cake. Lastly, it has a lemon drizzle to top it off. This recipe truly is one for lemon dessert lovers. It is great for a afternoon tea and serve this with English tea, I think it goes so well with it.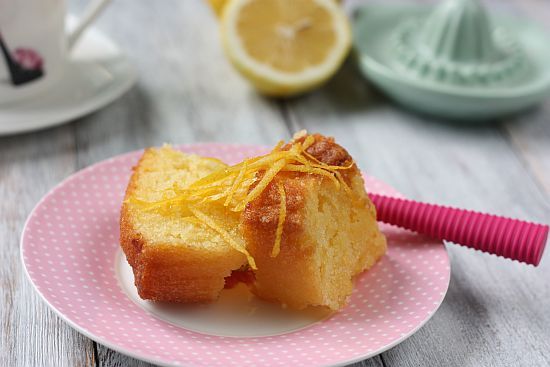 Lemon Drizzle Cake
Ingredients
:
200g butter, soften at room temperature
170g caster sugar
4 large eggs
100g fine cornmeal or fine polenta
140g self raising flour
1/4 tsp salt
Zest of 3 lemons
For the swirl and drizzle
:
4 Tbsp lemon curd
4 Tbsp caster sugar
Zest and juice of 1 lemon
Substitue: If you do not have cornmeal/polenta, substitute with a total of 200g self raising flour for the entire recipe
Method
:
1) Heat oven to 180C, middle rack. Butter a rectangular tray 20cm x 30cm, line the bottom with parchment paper.
2) Put all the ingredients in a mixing bowl and beat until creamy and smooth. Scoop the batter into the cake tin and smooth the top
3) Spoon the lemon curd over the batter in thick stripes. Use the handle of a spoon to swirl the curd into the cake. Do not over-swirl as you don't want to mix the curd into the batter, otherwise you do not see the swirls once the cake is baked.
4) Bake for 35 minutes or until golden and risen. The sides will shrink away from the pan slighly and the top will feel springy. Don't open the oven before 30 minutes of baking is up.
5) Leave cake to cook for about 15 minutes before turning out of pan. Place cake on a wire rack.
6) To make the drizzle, mix the sugar and lemon juice together. Then spoon over the cake> Toss the lemon zest with the final tablespoon of sugar and scatter over the cake. Let cool completely and then place cake onto a serving plate, peel away the parchment to serve. Cake can be kept in room temperature in airtight tin for 3 days.