I had extra egg whites remaining from another baking session but honestly I cannot remember what that was. So I decided to make some macarons which I have not done so for a long while now. As I went about measuring my ingredients, I had this phobia at the back of my mind. What happens if the macarons "bomb" out? It has happened in the past before! For such an uncomplicated recipe it really does test one's patience. Luckily this time round it was a success .. yeehah! I made Sencha flavoured macarons. Sencha is actually the other fancy name for Green Tea.
Sencha tea is a popular green tea from Japan made from the top parts of the tea leaf and tea buds. The tea leaves and buds are processed whole.
Japanese plantations produce the sencha leaves, with each region producing a distinct flavor of tea leaves. The leaves are harvested during April and May, and the first new tea leaves are especially sweet.
The leaves are steamed for less than a minute to stop oxidation. The whole leaves are then rolled into long cylinders and dried. The last step is to fire the leaves to preserve them and ensure that its flavour is locked in. Steaming makes Japanese teas quite distinct from Chinese green teas, and it gives the Japanese teas a grassier, vegetable flavor. (Guess you either love it or hate it!) Steamed tea leaves make a greener tea than leaves that are roasted, as with teas. The steaming process also helps to prevent oxidation and gives the tea a longer shelf life. Sencha tea accounts for about 80% of the tea consumed in Japan. It is usually served hot in the winter and chilled in warmer weather.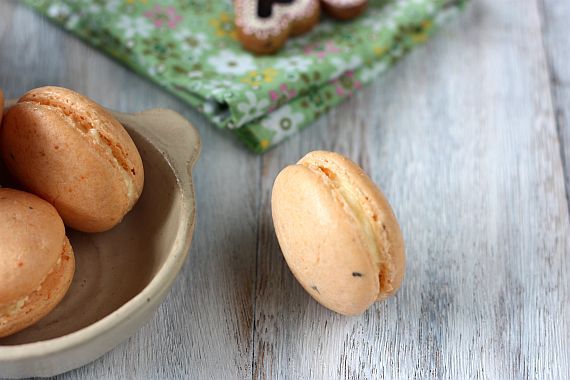 Sencha Flavoured Macarons with White Chocolate
Makes about 15 macarons
Recipe adapted from The Sweet Life in Paris (Broadway) by David Lebovitz
Ingredients for Macaron Batter
:
110g icing sugar
1/2 cup powdered almonds (about 2 ounces, 50 gr, sliced almonds, pulverized)
1 tsp sencha dried tea leaves (you can use any other tea leaves)
2 large egg whites (about 60g), aged for 24 hours at room temperature
4 Tbsp granulated sugar
Method
:
1) Preheat oven to 160C.
2) Line two baking sheets with parchment paper and have a pastry bag with a plain tip (about 1/2-inch, 2 cm) ready.
3) Grind together the icing sugar with the almond powder and sench tea leaves in a food processor for about 10 - 15 seconds. Remove and sieve through a fine siever and set aside.
4) Place egg whites into a clean dry mixing bowl. Beat the egg whites until almost soft peaks, about 2 minutes or so. Then slowly add in the granulated sugar and continue beating until stiff peaks. Do not overbeat.
5) Carefully fold the dry ingredients, in two batches, into the beaten egg whites with a flexible rubber spatula. When the mixture is just smooth and there are no streaks of egg white, stop folding and scrape the batter into the pastry bag (standing the bag in a tall glass helps if you're alone).
6) Pipe the batter on the parchment-lined baking sheets in 1-inch (3 cm) circles (about 1 tablespoon each of batter), evenly spaced one-inch (3 cm) apart.
7) Rap the baking sheet a few times firmly on the counter top to flatten the macarons. Leave the macarons aside for about 40 minutes. After that bake them for 15-18 minutes. Let cool completely then remove from baking sheet.
White Chocolate Buttercream
(Makes about 6 cups)
Ingredients:
10oz good quality white Chocolate
4 Egg whites
1 cup granulated Sugar
1 lb Butter, at room temperature
Method
:
1) Place the chocolate and into a bowl and place the bowl over a pan of simmering water. Be careful not to let any water get into the chocolate or it will bind up. You may also place the chocolate into a microwave safe bowl, cover it with plastic wrap and microwave for 10 seconds at a time in order not to burn the chocolate. Removing it after each 10 seconds and stir.
2) Beat the egg whites until soft peaks form. Now start to gradually add the sugar a little at a time. When all the sugar has been incorporated beat on high till stiff peaks form.
3) Add the butter a little at a time.
4) Now add the melted white chocolate while beating slowly and then beat till smooth. The buttercream can be made ahead of time and kept in the refrigerator. To use, let it thaw and then rewhip it again to smooth consistency. Left over buttercream can be frozen for up to a month.