I was blog hopping a while back and came across a Pau recipe from my blogger friend, Shirley of
Kokken69
. Timing was right as I was trying to find a simple and easy recipe for steamed buns. I guess what caught my eye too was the perfectly shaped bite-size morsels as well as the pretty "stamped" seal on top of each steamed bun.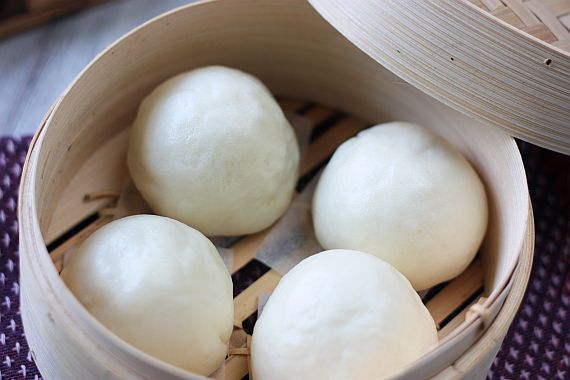 I thought to myself that this recipe would be the one to try out. I must confess that I did not make the red bean filling from scratch as I had left-overs from my Mooncake baking spree sitting in my refrigerator. The filling would be just sufficient for the amount of dough this recipe will create. The steamed buns turned out nicely but as with all steamed goodies, they are best consumed whilst hot. Once the buns turn cold, they turn a bit hard and dry. So always steam any remaining buns prior to consumption. My next project would be to try to nail down a recipe for fluffy steamed BBQ pork buns - like the ones served in Dim Sum Restaurants.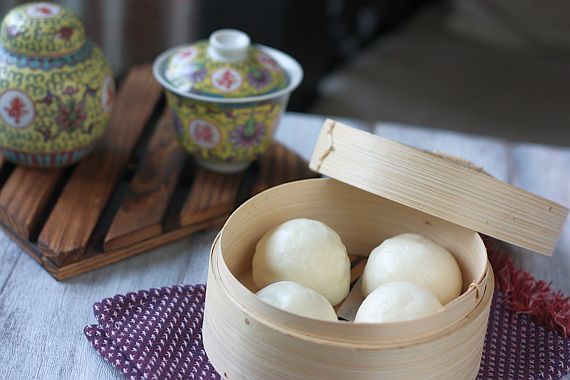 Red Bean Paste Pau (Azuki Bean Steamed Buns)
Dough Recipe Adapted from "Dim Sum in Hong Kong"
Ingredients:
150g Hong Kong (or Pau) flour
2g dry yeast
2g baking powder
20g caster sugar
75g low fat milk
2g vegetable shortening
Method:
1) Place all ingredients into a mixer and blend until smooth at low speed.
2) Ferment for 10 mins at room temperature. Then blend in mixer again for 5 mins.
3) Divide the dough into pieces of 20g each. Roll out to form a round wrapping of about 2 inches in diameter. Try to make the edges a bit thinner than the center of the wrap.
4) Place filling (I used about 35g. Roll the filling to a tight ball before wrapping) in the center of the wrap and pull down the edges gently. Seal the edges tightly, tucking in so that the bun has a nice round top.
5) Proof Pau at room temperature for 45 mins.
6) Steam Pau over boiling water for 15 mins. Serve whilst still warm. Left overs can be refrigerated in a tightly sealed container. To consume, steam for about 5 mins.