As far back as I can remember, pineapple tarts have been served in every single household we visited during the Chinese Lunar New Year. Our own household served these tarts as well to visitors. Pineapple tarts in fact have a significance to the Lunar New Year.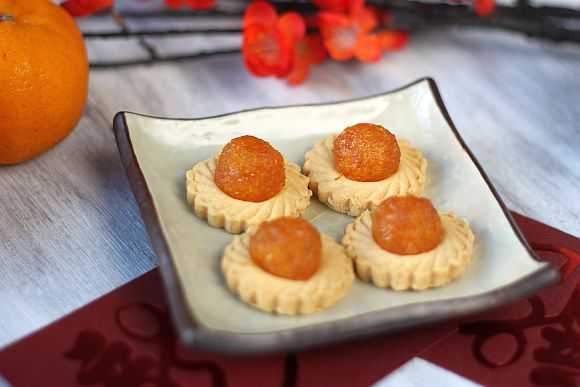 Pineapple, Feng Li 鳳梨, literary means the phoenix pear. It is also commonly known as 黃梨: Huang Li (in Mandarin) or Wong Lai (in Cantonese) or Ong Lai (in Hokkien). It means the yellow pear or to some, the golden pear. The common vowel of "Wong" or "Ong" in the many Chinese dialect just means one thing which is "prosperity". I guess this is the reason why Pineapple Tarts are served during the Lunar New Year as eating this cookie means it would bring prosperity and maybe the chance of good luck to the individual.
Wishing you and your family a Happy Lunar New Year. May you have lots of prosperity this year.
Pineapple Tarts
Ingredients for the Jam:
4 slightly riped pineapples
400g sugar
Method:
1) Cut the pineapples and remove all eyes. Cut into long wedges removing the center core. Using a food processor, grate the pineapple and put into a non-reactive deep pan.
2) Add the sugar into the pan and cook the mixture over a low heat, until it resembles a thick jam. This will take between 1 1/2 to 2 hours. Cool and pack into containers. The jam can be refrigerated up to 2 months.
3) For a spice flavour, you can add in a stick of cinnamon and some star anise during the cooking process. Remove the spices before packing into containers.
Ingredients for Pastry:
150g plain flour
1/4 tsp salt
1 Tbsp corn flour
100g unsalted butter, softened
1 1/2 Tbsp icing sugar
1 egg yolk
Method:
1) Sieve flour, corn flour, salt, icing sugar and vanilla essence into a mixing bowl.
2) Beat the butter and icing sugar until soft and creamy. Add in the egg yolk and beat until combined.
3) Add the flour mixture all at once and rub into the butter mixture until it resembles bread crumbs.
4) Take a bit of the pastry dough (the rest covered with a slightly damp cloth to keep it from drying) and roll pastry into 1/2 cm thickness. Dust the cutter with some flour and then stamp out the shape onto the rolled out pastry. Place the cut out piece onto a baking tray lined with parchment paper.
5) Pinch some pineapple jam and roll into a ball with 1cm diameter. Place on the center of the tart.
6) Bake in a preheated oven at 180C for 20 to 22 minutes minutes till lightly golden.