At times I am just in the mood of having a simple meal such as a salad or soup. This particular weekend was one of those days and I decided to make some homemade pumpkin soup. I know it would be easier to just grab a can off the grocery shelf but I find canned soups to be loaded with a lot of salt. Furthermore it is either too watered down or has a starch like consistency.
I decided to try making some pumpkin soup from scratch and butternut pumpkin is the easiest to find in this part of the world. Butternut Pumpkins, also called butternut squash, are pear-shaped with pale orange-brown skin and a brightly coloured deep orange flesh. The wonderfully moist flesh has a sweet, buttery, nutty flavour and a slightly fibrous firm texture. Pumpkin is a source of vitamin A & C, folate, potassium, nician and dietary fibre.
Pumpkin is prone to decay, so it is important to carefully inspect it before purchase. Choose ones that is firm, heavy for its size and has a dull, not glossy, rinds. The rind should be hard as soft rinds may indicate that the pumpkin is watery and lacking in flavour. Avoid those with any signs of decay, which manifest as areas that are water-soaked areas or mouldy. If you are not planning to cook the pumpkin immediately, you should store it in a cool, dark and well ventilated area. However once the butternut is cut, wrap in plastic and store in fridge.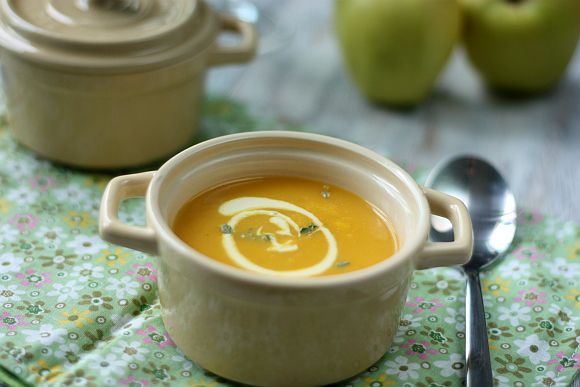 Roasted Pumpkin Soup
Recipe Adapted from Donna Hay's "Fast, Fresh & Simple"
Serves 4
Ingredients:
1 x 2kg whole butternut pumpkin
1 onion
Olive oil, for drizzling
3 1/2 cups chicken stock (fresh or canned (unsalted))
1 cup (250ml) single (pouring) cream
1 sprig of fresh rosemary
Sea salt
Freshly ground black pepper
Method
:
1) Preheat oven to 220°C (425°F).
2) Cut the pumpkin in half lengthways and scoop out the seeds.
3) Place the pumpkin, cut-side up, and onion on a baking tray. Add the sprig of fresh rosemary on top of the pumpkin.
4) Drizzle with a little oil and sprinkle with salt.
5) Bake for 55–60 minutes or until the pumpkin is just soft and starting to brown. Remove and discard the rosemary. Scoop the pumpkin out of the skin into a blender.
6) Scoop the onion flesh away from its skin and add to the blender.
7) Add 1 cup (250ml) of the chicken stock and blend until smooth.
8) Pour the mixture into a saucepan, add remaining stock and cream.
9) Place over medium heat until soup is heated through.
10) Serve with freshly ground black pepper and a drizzle of fresh cream or sour cream.