Macarons are still a mystery to me because I am never consistent whenever I make these french cookies. I could have a good batch one time and a total disaster another time.
I don't purposely plan to make macarons but this particular time I had quite a lot of left over egg whites. So I kept them in a plastic container in the fridge for close to a week before using them. Pandan flavoured macarons had been on my mind when deciding on the flavour. For the filing it was simple - what goes with pandan was so obvious, kaya or coconut jam. It was a breeze where this recipe was concerned as I used bottled jam which is so easily available - buy the best flavoured one in this case! And I was glad that this time round it was not a disaster!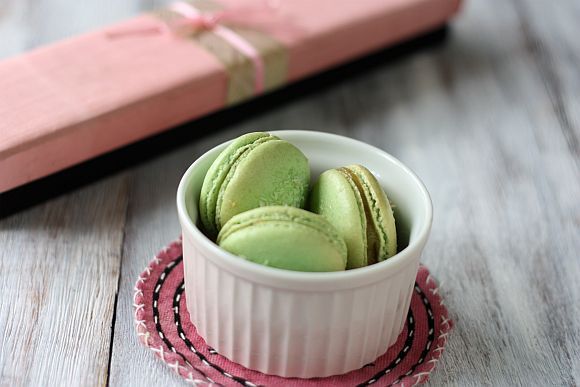 Pandan Flavoured Macarons with Coconut Jam (Kaya)
Adapted from "Ottolenghi - The Cookbook"
Ingredients:
110g icing sugar
60g almondmeal
60g egg whites, (about 2 eggs) aged 3 days in the fridge, then for about 3 hours at room temperature. You can also use 24 hour aged egg whites left open and unrefrigerated.
30g castor sugar (this is reduced from the original recipe)
1 tsp pandan extract or pandan essence
Wilton green colour gel (optional if you want more colour)
Dessicated coconut for sprinkling on top of shells
Store bought coconut jam (kaya) for filing
Method for the Macaron Shells:
1) Line two baking trays with parchment paper.
2) In a large mixing bowl mix the egg whites with an electric hand beater (alternatively you can use a stand mixer with the whisk attachment) until it is frothy. Gradually add the granulated sugar, whisking all the while, until the mixture turns into a thick glossy meringue (soft peak). Then add in the pandan extract and mix until stiff peaks.
3) Sift the almond meal in a clean bowl and measure out the correct weight. Then sift the icing sugar into another bowl and measure out the correct weight. Mix both almong meal and icing sugar together and whisk until mix properly. There should be no lumps
4) Add 1/3 of the dry ingredients into the meringue. Give the mixture a quick fold to ensure that everything is combined. Add the remaining 2/3 dry ingredients and gently fold the mixture (about 50 folds altogether). Fold a few times to break the air. Continue until you get a smooth and supple mixture, thick in consistency so that when you lift the spatula it flows back in thick ribbons. Test a small amount on a plate – should the tops fall back and flatten by themselves then it is ready, if not give it a few more folds.
5) Fill a large piping bag with a plain tip with the batter and pipe small rounds (2 cm in diameter) on your prepared baking paper. Sprinkle the top of each macaron with the dessicated coconut. Leave the macarons to rest and dry for 45 minutes.
6) Preheat the oven to 160C. When the macarons are ready, bake the shells for about 15 minutes. Remove from the oven and allow to cool. Use a flat offset spatula to gently remove the shells from the baking paper and allow to cool further on a rack.
To Assemble:
Using a spoon place a small dollop of the coconut jam on one of the shells and gently cover with another shell. Do not press. Continue to do this with the rest of the shells.
Storing Macarons:
If you are not going to be eating them right away you can store the shells in an airtight container at room temperature for 2-3 days. Fill the macarons a few hours before consuming.
They freeze well too but it is recommended to freeze them unfilled. To fill them take the shells out of the freezer 48 hours prior to serving and without defrosting fill them. This way the flavors will be allowed to blend as they thaw.