I have finally found bottomless tart rings in Singapore! I have been looking for these for a long while now and had even contemplated purchasing them from overseas and having it shipped to Singapore. However the shipping cost which was even more than the tart rings itself had detered me from doing so. If I really had bought them I would have had to kick myself really hard in the butt because the rings sold here in Singapore are much cheaper.
I made some wild mushroom tartlets as opening ceremony for the rings. I usually tend to make the tart shells over a weekday and freeze them until weekend when I have more time to bake. So it is quite often that I do have a spare unbaked tart shell lying in a corner of my freezer. Really handy too whenever I feel like having a tart for dinner.
Wild Mushroom Tartlets
Makes a 9" tart or Four 4" tartlets
For the Pate Brisee:
250g all purpose flour
150g cold unsalted butter, cut into small pieces
1 tsp fine salt
1 medium egg
1 Tbsp cold milk
Method for the Pate Brisee:
1) Sift flour and salt into a bowl.
2) Add in the butter.
3) Using a pastry cutter, cut the butter into the flour until it resembles rough breadcrumbs.
4) In a separate bowl, lightly beat the egg with the milk and drizzle it onto the flour mixture.
5) Using your hands, blend the mixture together and lighly knead to bring together. Try not to handle the dough too much.
6) Roll the dough into a ball, wrap in plastic wrap, flatten it into a disk and chill for about 45 minutes to an hour.
8) To line your tart tray, I find it easier to roll the dough between two pieces of clingwrap plastic. Roll to about 3" wider than the base of your tray. Remove the top wrap.
9) Lift the dough using the clingwrap plastic and gently flip it into your tart tray. Press the dough onto the tray and trim off the excess.
10) Dock the base of the tart shell with a fork and then place it into the fridge for another hour.
11) Preheat oven to 190C. Bake the shell blind, for about 15 minutes. Then remove the parchment paper and bake for another 5 minutes. Remove from oven and let it cool before pouring in the filing.
Cook's Note:

You can also use your food processor. Just whisk the dry ingredients first. Then drop in the cubed cold butter into the processor. Pulse until the mixture resembles rough breadcrumbs. Then slowly add in the egg and pulse until the dough comes together - do not overdo this otherwise your dough will be very hard.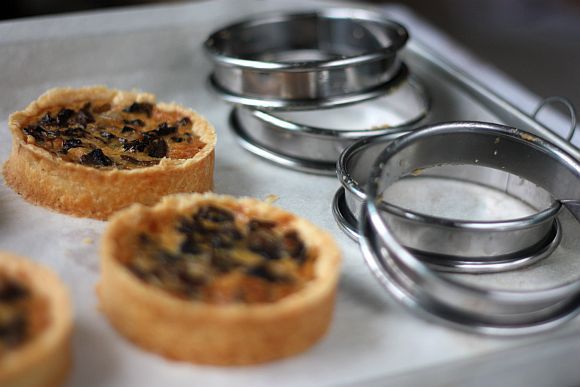 Ingredients for the Filing:
Recipe Adapted from Taste.com.au
50g unsalted butter butter, chopped
1 small onion, finely diced
3 garlic cloves, thinly sliced
400g mixed wild mushrooms, roughly chopped
2 eggs
1 cup thickened cream
80g grated mixed cheddar
1/2 tsp mixed dried herbs
Salt and pepper to taste
Method:
1) Melt butter in a large frying pan over medium-high heat. Add onions and garlic. Cook, stirring often, for 5 minutes or until soft.
2) Add the mushrooms and dried herbs, and cook for 4 minutes or until just tender. Set aside for 10 minutes to cool.
3) Whisk eggs, cream and salt and pepper in a jug. Spoon mushroom mixture into pastry case. Pour over egg mixture. Top with cheese. Place on hot tray. Bake tart for 40 minutes or until centre is set and top is light golden. Serve whilst still warm.