I grew up eating steamed minced pork as it was a frequent dish on our dining table. My mum would make it with different types of toppings such as salted duck egg (as with the recipe posted here), preserved vegetables or with salted fish. I really looked forward to dinner time whenever this was served and could easily finish off two bowls of rice.
It is such a simple and easy dish but surely gives much joy and pleasure in eating it. Steamed minced pork with salted duck egg is such a Hakka dish that many Malaysian Chinese would be familiar with. The main ingredients is really the minced pork which should not be too lean otherwise you end up with a tough meat patty. And of course the salted duck egg. The dish has to be steamed correctly, not too short and not too long a steaming time and also it has to be eated when just cooked. Cooking this dish again really brings back childhood memories.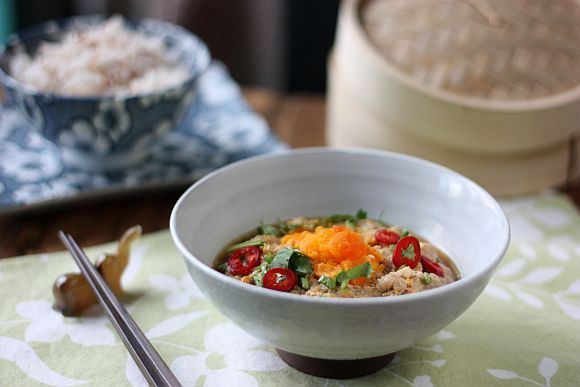 Steamed Minced Pork with Salted Duck Egg
Ingredients
:
250g pork mince (with fat included)
2 salted duck eggs
1 clove garlic finely minced
4 water chestnut, chopped
2 Tbsp chinese wine + 1 Tbsp water
1 tsp cornstarch
1 tsp white pepper
1 spring stalk cilantro, chopped
1 Tbsp sesame oil
Soy Sauce to taste
Method:
1) Mix pork mince, garlic, white pepper, water chestnut, cornstarch, and chinese wine together until well combined. Add half of the egg white from the salted egg into the meat and mix well. Use a shallow dish, spread the mince over the dish to an even thickness (do not press the meat patty down).
2) Flatten the egg yolk slightly and place on top of the meat patty.
3) Steam the dish in a wok on medium-high heat over simmering water for 20-30minutes or until it is cooked.
4) Drizzle with sesame oil, and a splash of soy sauce, sprinkle with chopped cilantro and a dash of white pepper. Serve hot with steamed rice.