This is an absolutly simple, delicious and flavourful meal when you are really rush for time. I had made this for dinner after work one evening and dinner was served in less than an hour - and this is including prep time as well.
If you are even more rush for time, forget about making your own marinade. Bottled eriyaki sauce is easily available in most Asian grocery shops. It's great on fish, BBQ, roast chicken and I even drizzle a bit of it on my cold tofu dishes.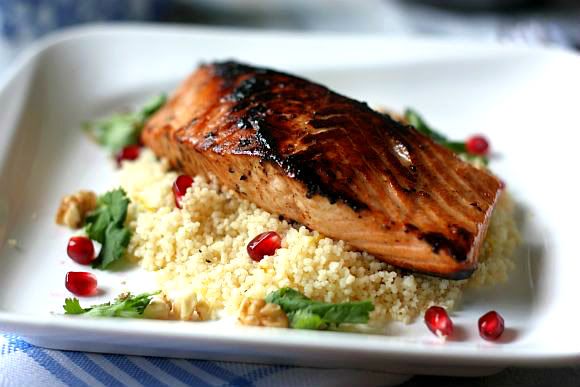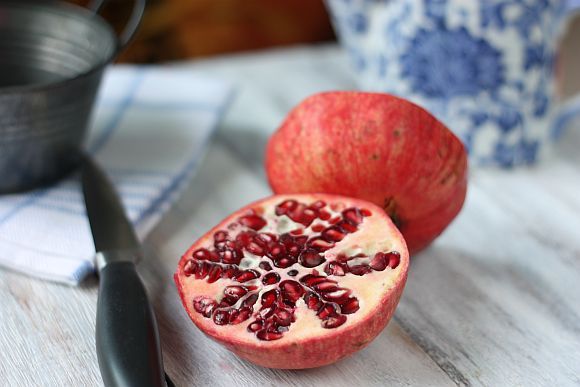 Salmon Teriyaki with Lemon Pomegranate Cous Cous
Serves 4
Recipe Adapted from BBC Goodfood
Ingredients for the Salmon Teriyaki
:
4 pieces of salmon fillets
4 Tbsp soy sauce
2 Tbsp mirin
2 Tbsp sake (or substitue with Chinese wine)
1 Tbsp brown sugar
4 cm root ginger , grated and squeezed to give 2 tsp juice
Pinch of black pepper
Method:
1) Heat the grill to high. Mix together the marinade ingredients, put the salmon in a shallow dish and pour the marinade over. Leave for 20 minutes.
2) Heat a little oil in a large frying pan and cook the salmon, skin-side-down, for 4-5 minutes until the skin is crisp and the salmon almost cooked through. Spoon over a little leftover marinade and slide under a hot grill. Cook until the surface is glossy brown.
Ingredients for the Lemon Pomegranate Cous Cous:

500 g couscous
2 Tbsp olive oil
1 lemon, juice only
500 ml boiling chicken stock or water
1 tsp salt and black pepper
3 tbsp chopped mint or coriander
1 pomegranate, cut in half, seeds removed

Method:

1) Place the couscous in a bowl and add the olive oil and lemon juice, and mix well.
2) Pour over the boiling stock or water and season with salt and pepper.
3) Leave on one side to sit until all the liquid has been absorbed - about 5-10 minutes.
4) Stir in the chopped herbs and add the pomegranate seeds.