I have been absolutely slack in updating my blog and have been caught up by so many things lately. In July I had family members visiting me from Melbourne and Kuala Lumpur. I didn't do much cooking at all during that time - in fact we mostly ate out.
After they left I had to deal with one of my dogs (Milo) having to go in for heartworm treatment. Milo was treated for Stage 1 and last week he went in for his double injection, one administered on Monday and the other administered on Tuesday. I was quite worried especially after reading how the treatment was done and the after-care involved. He is now confined at home with no exercise or excitement for the next four weeks and so far he is doing very well.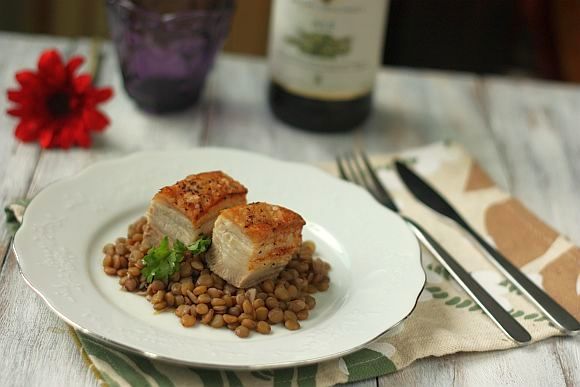 Crispy Pork Belly Served with Lentils
Recipe Adapted from Delicious Magazine
Serves 4
Ingredients:
1 kg boneless pork belly, skin scored (ask your butcher to do this for you)
1 tbsp fennel seeds
1 tbsp sea salt
1 large onion, cut into wedges
3 celery sticks, cut into chunks
1.5 cups to 2 cups chicken stock
Method:
1) Preheat the oven to 180C.
2) Place the pork belly on a board and pat dry with kitchen paper. Rub the fennel seeds and sea salt all over the skin.
3) Place the onion wedges and celery in a roasting tin, put the pork belly on top, skin-side up. Then slowly pour in the chicken stock, making sure you do not moist the skin.
4) Place in oven and roast for 1 hour to 1 hour 15 mins.
5) Increase the temperature to 210C (fan oven) and roast for a further 20 minutes, until the crackling is crisp.
6) Place on a carving board to rest for 20 minutes before slicing. Serve with seasonal vegetables or lentils.