My husband has scored again this weekend ... now don't you think of anything that is naughty! I meant to say that I've decided to try out a new pasta dish (one of his fav foods). Something simple and entirely very fresh .... a fresh basil pesto. I was searching through Tastespotting and there are quite a few recipes found in their site. By the way if you have not discovered Tastespotting, where have you been all this time! There is a wealth of recipes in this online library and you get to discover this huge group of talented bloggers from all over the world as well.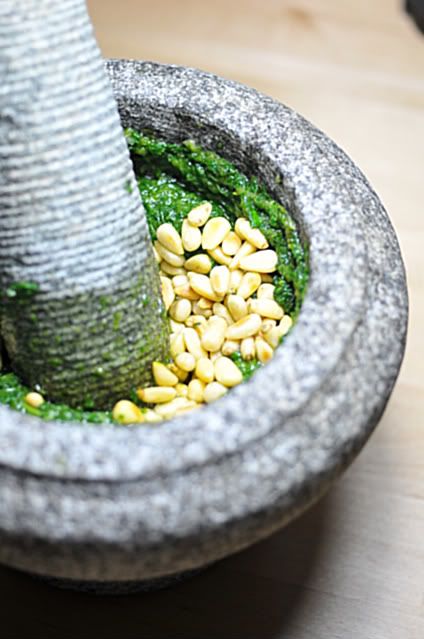 I finally settled on a recipe from
David Lebovitz
and decided to try his method of making pesto. Instead of using a food processor as with most recipes I had come across, David used a mortar and pestle to pound all the ingredients. I thought to myself I could do this. Back home in Malaysia, when we were very young, my mum would make curry paste by pounding all the ingredients in a mortar. This is the traditional way and the pounding action brings the ingredients together. Somehow or other, the curries always tasted more delicious using this old fashion method. But nowadays, who has the time to do this especially when a food processor does the trick in less than 2 minutes. However I must agree that the old fashion method does build up some (not a whole lot though) biceps. I had bought my mortar and pestle about 6 years ago when I was back home in Malaysia and so far have not used it very often. I learnt recently from a local cook program, that the best way to season a new pestle is to pound it with some cooked rice for about 10 to 15 minutes. The cooked rice will help to pick up any residual sand or dust particles from the new pestle. After that just rinse the pestle with some warm water and you are ready to go.
I used the pesto for a simple penne dish topped with freshly grated parmesan, with a side of streaky bacon and a plate of toasted garlic bread .. simply delicious!
Fresh Basil Pesto
Recipe from David Lebowitz
(Makes about 1 cup - serves 4)

Ingredients:
2 cloves garlic, peeled (I used an extra 2 cloves and the pesto had a distinct bite to it. Suggest you use 2 cloves only)
3/4 tsp coarse sea salt
5 cups (20g) loosely-packed fresh basil leaves (washed and dry)
5 Tbsp (75ml) olive oil
2 ounces (60g) grated Parmesan cheese
1/4 cup (30g) pine nuts, toasted (I toasted mine in a frying pan, too lazy to turn on the oven)
Method:
1) Smash the garlic and salt together in a mortar and pestle until smooth.
2) Coarsely chop the basil leaves, then add them to the mortar and pounding them into the garlic as you add them.
3) Once well-mashed, when they've become a fairly-smooth paste, pound in the olive oil, adding it a spoonful at a time, until well-incorporated.
4) Lastly, pound in the cheese, then the pine nuts.
5) Continue mashing everything for a few minutes until the pesto is as smooth as possible.
Notes:
Fresh pesto should be served within a day or two after it's made. Otherwise the garlic can become overpowering. It can also be frozen for a few months, if well-wrapped.

If using a mini-chopper, or similar device, simply blitz all the ingredients together until as smooth as possible.