I came across this recipe and had wanted to try this out for ever so long. It's such a simple recipe and it very much reminded me of melting moments. However I wasn't sure until I had made them. I must admit that I've come across lemon cookies but not a particular recipe that uses limes instead. You may want to take note that if you should ever come across any key limes (unfortunately we don't have this here in Singapore), use them instead of ordinary limes. The melts are suppose to taste even better. The best part about these cookies is that the dough, once rolled into logs, can be frozen for up to two months. So whenever you feel like having a melt craving, just place one of the logs from the freezer into the the fridge section the night before baking. This will help to thaw out the dough whilst you sleep. Isn't this great!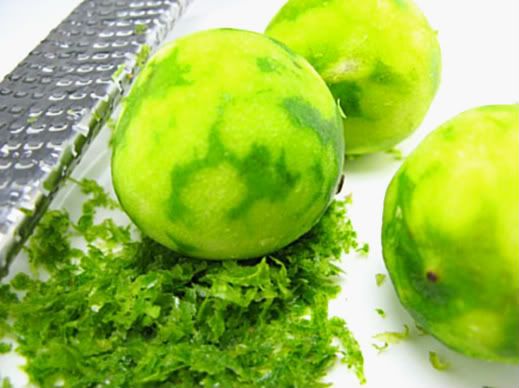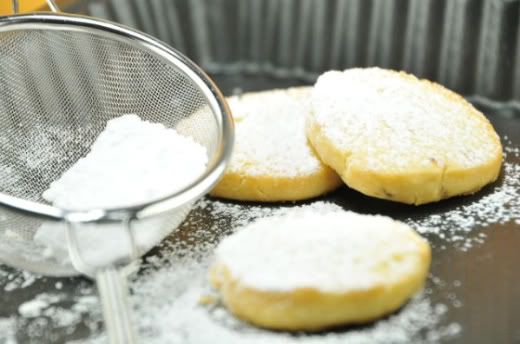 Lime Meltaways
Adapted from Martha Stewart
Yield: 5 dozen
Ingredients:
169g (1 1/2 sticks) unsalted butter, room temperature
1 cup confectioners' sugar
Grated zest of 4 tiny or 2 large limes (if you have key limes, use them as I've heard that the cookies will taste even better)
2 tablespoons freshly squeezed lime juice
1 tablespoon pure vanilla extract
1 3/4 cup plus 2 Tablespoons all-purpose flour (a.k.a. 2 cups minus 2 tablespoons)
2 tablespoons cornstarch
1/4 teaspoon salt
Method:
1) In the bowl of an electric mixer fitted with the whisk attachment, cream butter and 1/3 cup sugar until fluffy. Add lime zest, juice, and vanilla; beat until fluffy.
2) In a medium bowl, whisk together flour, cornstarch, and salt. Add to butter mixture, and beat on low speed until combined.
3) Between two 8-by-12-inch pieces of parchment paper, roll dough into two 1 1/4-inch-diameter logs. Chill at least 1 hour. (I placed my logs into the freezer for about 25 minutes as I really didn't have time)
4) Heat oven to 176C (350F. Line two baking sheets with parchment. Place remaining 2/3 cup sugar in a resealable plastic bag. Remove parchment from logs; slice dough into 1/4-inch-thick rounds. Place rounds on baking sheets, spaced 1 inch apart.
5) Bake cookies until barely golden, about 15 minutes. Transfer cookies to a wire rack to cool slightly, just three or four minutes. While still warm, place cookies in the sugar-filled bag; toss to coat. Bake or freeze remaining dough. Store baked cookies in an airtight container for up to 2 weeks.