I had purchased a bottle of Kahlua sometime back from a duty free shop at Bangkok International Airport specifically to make desserts or cakes with coffee liquer. The bottle was still unopened until I decided to make some tiramisu. I love this dessert even though I've never made it before. It's so smooth and light - a perfectly elegant and simple dessert to put together after a great meal.
This particular recipe uses raw eggs, which is the traditional way of making Tiramisu. Just make sure that you are using the freshest of eggs. I've seen fat free versions of tiramisu which uses low fat ricotta cheese and low fat sour cream. Give me a break! If you want to have a great tiramisu, go for the real stuff. Just don't gorge yourself with it in case you are feeling guilty.
I halfed the recipe below and served them in little glasses. These glasses are actually meant for tea lights but they sure did look good as dessert shots. The tiramisu was great and I'm definitely going to whip up a bigger serving the next time round when we have friends over for dinner.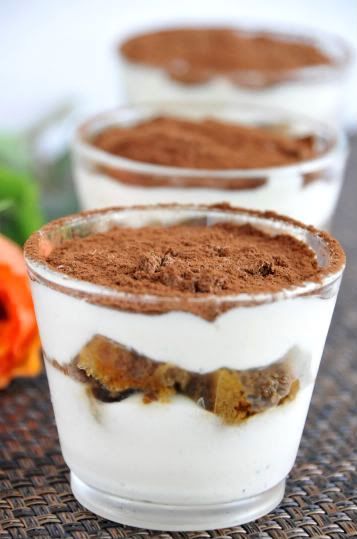 Tiramisu

Recipe Adapted from David Lebowitz
Makes 6 individual servings
Ingredients:
1/2 cup (125ml) freshly brewed espresso, at room temperature (I used instant expresso powder to make a 1/2 cup of coffee)
3 - 4 tablespoons Kahlua
2 large eggs, separated, at room temperature
pinch of salt
7 tablespoons (90g) sugar, divided
1 cup (250g) mascarpone
twelve 3½-inch ladyfingers (70g, or 3 ounces)
30g grated bittersweet chocolate
unsweetened cocoa powder, for serving
Method:
1) Mix together the espresso and Kahlua. The mixture should taste strongly of alcohol. If not, add more until it does. (That flavor will tone down when mixed with the other ingredients, but feel free to adjust to taste.)
2) In the bowl of an electric mixer, or by hand, beat the egg whites with a pinch of salt until they begin to get stiff. Beat in half of the sugar until stiff. Scrape the egg whites into a small bowl.
3) In the same bowl, beat the egg yolks with the remaining sugar until stiff and light-colored, about three minutes. (If using a standing electric mixer, you may need to stop and scrape down the sides.) By hand, beat in the mascarpone with a spatula or whisk, until lump-free.
4) Fold in half of the beaten egg whites, then the remaining half, just until fully incorporated.
5) Put a splat, a heaping soup spoon, of the mascarpone cream into each vessel.
6) Break each ladyfinger in half and then submerge it in the espresso mixture for 5-10 seconds, until completely, utterly soaked. (Dried ladyfingers will take longer to saturate than softer ones.) Be careful not to soak it for too long as they tend to get really musshy! Then layer them over the mascarpone cream in each vessel. Use two ladyfingers for each serving.
7) Grate a generous amount of chocolate over each.
8) Top with remaining mascarpone cream, cover, and refrigerate at least four hours, but preferably overnight.
9) Right before serving, shake powdered cocoa generously on top. Delicious served with a cup of espresso coffee.