I had always thought that truffles were difficult to make. Probably because these delicious "melt in the mouth" chocolates always looked so pretty and delicate over the counter. If I happen to go to any chocolate boutique shops, I would just gaze at the delicate workmanship put into some of their truffles.
I can't really say that I am a chocolate addict. I do like chocolates but will not crave for it and at times not touch any even though the entire box of tempting treats could be right in front of my nose. I clearly remember that the last time I ever bought a box of dark chocolate truffles was in February. Now that's a long time ago! And some of you will likely say I must be mad! Although the box was small, probably had about a dozen or so pieces in it, would you believe that this same box was still in my fridge until a week ago! My husband was rummaging through the refrigerator, in one of his "have you got anything to munch" moods when he came across the box of truffles. He took it back out with him from the kitchen to the living room and plop himself in front the telly. He said to me in passing that the truffles were a bit dry already, likely because of the timeframe it had been sitting in the fridge. I thought he would have a few pieces and put the rest back into the fridge. It was until much later in the evening that I discovered how much he had really put away .. into his stomach that is. The evidence of an extremely empty box of truffles was thrown into the kitchen trash bin. I guess I sort of exclaimed "What! You mean you finished everything!". His standard reply to such situations would be "I might as well finish it. It was sitting a bit too long there."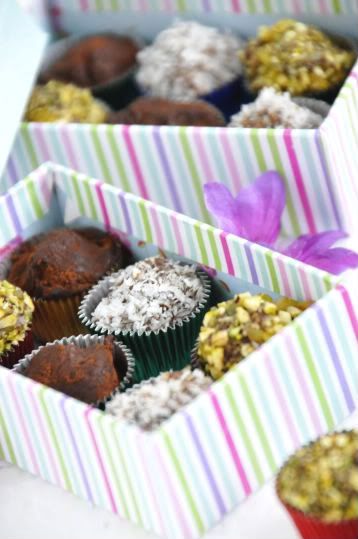 Espresso Truffles:

Makes about 35 pieces
Ingredients:

1/2 cup (125ml) heavy cream
2 teaspoons instant espresso powder
3 tablespoons of Kahlua
65g of good quality semi-sweet chocolate (55% cocoa)
65g of good quality bitter-sweet chocolate (70% cocoa)
Chopped pistachios, desiccated coconut and cocoa powder for coating
Method:
In a small heavy saucepan, bring the cream and espresso powder to a simmer over low heat. Add the liqueur and remove from the heat. Add the chocolate and let stand a couple of minutes then stir the ganache until completely smooth. Let cool to room temperature then refrigerate until firm, about 3 hours. With a spoon or a melon baller, scoop out balls of ganache, roll them in between your palms fairly quickly (this is the messy part!). Then coat the balls in either chopped pistachios, desiccated coconut or cocoa powder. Refrigerate the truffles for at least 2 hours before serving.