We were at Borders one weekend and as I browsed through the cookery section, I came across some books which featured cookie recipes. I particularly liked one book as it featured only one cookie dough with more than 20 variations to it. I thought this was great and furthermore as I read through some of the recipes, I realized that the ingredients and instructions were simple and easy.
I decided to try one recipe out one evening after work. Everything was done using one bowl only and I didn't even need to use my mixer for this. The cookies had a buttery taste to it and the pistachios added that extra crunch to each bite. I could not wait for the cookies to be completely cool before doing a trial test on about three.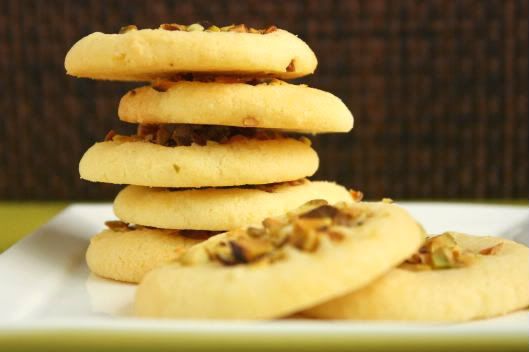 Pistachio & Almond Cookies

Recipe Adapted from The Cookie Collection
Makes about 30 cookies

Ingredients:
225g unsalted butter, softened
140g castor sugar
1 egg yolk, lightly beaten
2 tsp vanilla extract
225g plain flour
55g ground almonds
55g pistachio nuts, finely chopped
1/2 tsp salt
Method:
1) Put the butter and sugar into a bpwl and mix well with a wooden spoon. Then beat in the egg yolk and extract.
2) Sift the flour and salt into the mixture. Add the ground almonds and stir until thoroughly combined. Halve the dough, shape into balls, wrap in clingfilm and chill in the refrigerator for about 40 minutes.
3) Preheat the oven to 190C. Line 2 baking sheets with baking parchment.
4) Unwrap the dough. Pinch some dough, about 1 tablespoon, and roll into a balls. Put on the baking sheet, spaced well part. Flattened each ball slightly with your palm.
5) Bake for 10 - 12 minutes. Levre to cool on the baking sheets for 5 - 10 minutes, then using a palette knife, carefully transfer the cookies to wire rack to cool completely.