My recent cook book purchase from Amazon.com was to have arrived in the third week of July but when early August came, there was still no sign of my package. I was already imagining that the package was lost in post and that would be the end of it. When I emailed Amazon about this, their customer service told me to wait another two weeks and if it hadn't arrived by then, they would do a refund for me. In the meantime, they were kind enough to waive the shipping cost altogether. I was pretty pleased about it and certainly appreciate their excellent customer service.
Anyway a week after that, my package finally arrived. I was very excited as one of the books I had ordered was by
Michel Roux
. This book covered the different types of pastry from classic puff, tart dough to pizza dough. Most of the recipes came with beautiful pictures, which is exactly how I like my cook books to be. I immediately got down to trying out his pate brisee recipe, slightly adapting the method of mixing the ingredients together. I also adapted the cherry tomato tart in the same book by including carmelized onions. All I can say is the tart dough is extremely, extremely flaky and delicious. You can even make the pate brisee beforehand - line your tart tray and pop the unbaked tart shell into your freezer, and for up to 2 months too. When ready to bake, immediately take it out from the freezer, dock the dough and blind bake the shell according to the recipe you are making. This pate brisee is great with both savoury and sweet tart filings.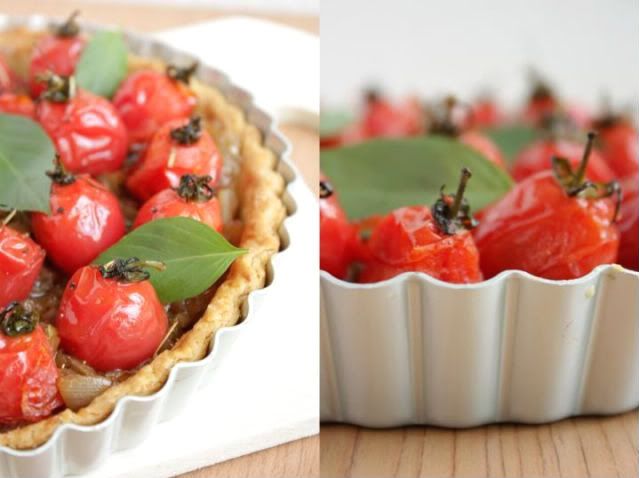 Confit Cherry Tomato Tart with Carmelized Onion
Recipe Adapted from Michel Roux "Pastry"
Makes an 8" tart - serves 6
250g pate brisee
1 cup carmelized onion
500g confit cherry tomato
6 basil leaves
For the pate brisee:
250g all purpose flour
150g cold unsalted butter, cut into small pieces
1 tsp fine salt
pinch of superfine sugar
1 medium egg
1 Tbsp cold milk
Method:
1) Sift flour into a bowl. Add salt and sugar.
2) Add in the butter.
3) Using a pastry cutter, cut the butter into the flour until it resembles rough breadcrumbs.
4) In a separate bowl, lightly beat the egg with the milk and drizzle it onto the flour mixture.
5) Using your hands, blend the mixture together and lighly knead to bring together. Try not to handle the dough too much.
6) Roll the dough into a ball, wrap in plastic wrap, flatten it into a disk and chill for about 45 minutes to an hour.
8) To line your tart tray, I find it easier to roll the dough between two pieces of clingwrap plastic. Roll to about 3" wider than the base of your tray. Remove the top wrap.
9) Lift the dough using the clingwrap plastic and gently flip it into your tart tray. Press the dough onto the tray and trim off the excess.
10) Dock the base of the tart shell with a fork and then place it into the fridge for another hour.
11) Preheat oven to 190C. Bake the shell blind, for about 20 minutes. Then remove the parchment paper and bake for another 20 minutes until the tart is golden brown.
For the Confit Cherry Tomato:
Makes 700g
4 cups light olive oil
1 kg ripe cherry tomatoes
1 Tbsp dried rosemary
1 bay leaf
2 garlic cloves, halved
Salt and black pepper to taste
Method:
1) Heat a pot over stove and then add the olive oil.
2) With the fire on low, add the cherry tomatoes, dried rosemary, bay leaf and garlic and cook for about 5 minutes. Make sure that you continue turning the tomatoes around so that they do not break apart. Season with salt and black pepper.
3) Scoop out from pot and place into a bowl to cool.
For the Carmelized Onions:
4 - 5 large white onions, sliced thinly
Salt and black pepper to taste
Method:
1) Heat a pot over stove and add 3 tablespoon of olive oil.
2) Add the sliced onions and cook over the medium to low fire.
3) Stir continuous so as the onions do not burn. Cook until onions have soften and turn a light brown colour (should take about 15 - 20 minutes)
4) Set aside to cool.
To Assemble Tart:
1) Spread about 3 - 4 tablespoon of creme fraiche on the bottom of the baked tart shell (can be omitted if you do not have any).
2) Spread a layer of carmelized onion
3) Finally place the cherry tomato on top of the onion.
4) Place the assembled tart into a pre-heated oven of 160C for about 5 minutes to warm up the tart.
5) Scatter the fresh basil leaves on top of tart and serve immediately.