Ever since I first saw my first tagine cook show, I have been fasinated by the preparation of this dish. Tagine is actually a moroccan stew which is cooked slowly over a stove. It usually consist of meat or poultry and is combined with fruit such as prunes, dates and apricots. It must have been the way everything was just added together and then slowly cooked in a special claypot which drew my interest . This claypot also originates from Morocco and is called a tagine. The traditional tajine pot is formed entirely of a heavy clay which is sometimes painted or glazed. It consists of two parts; a base unit which is flat and circular with low sides, and a large cone or dome-shaped cover that rests inside the base during cooking. The cover is so designed to promote the return of all condensation to the bottom. Thus the dish itself requires very little addition of water. When the cover is removed, the base of the tagine can be used for serving the dish it is cooked in.
This particular dish which I tried out did not require any fruit. However it does uses green olives and preserved lemons. I made the preserved lemons a couple of months ahead of actually cooking this dish. I have included below how to make your own preserved lemons. The first time I made a batch, I followed the same recipe and placed the jar in a cool place inside my cupboard. I'm not sure if it was humity or what, my lemons started to develop a scum layer and had fungus on it after about 4 days. I had to throw the entire batch away. The next time round, I left the jar in a cool cupboard for about 2 days only and thereafter I immediately placed the entire jar into the refrigerator. The jar of lemons was left in the fridge for slightly more than a month before I finally used it. The preserved lemons came out great.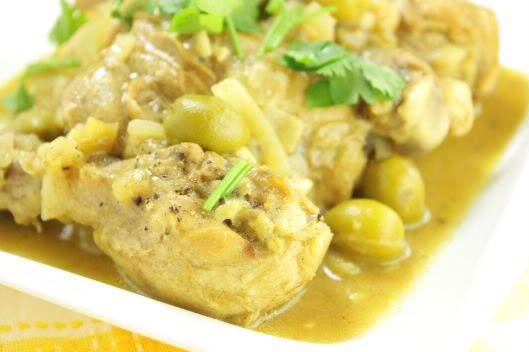 Chicken Tagine with Olives and Preserved Lemons

Recipe Adapted from "French Food at Home" by Laura Calder
Yield: 4
Ingredients:
4 pieces chicken drumstick and 4 chicken thighs, skinned
Salt and pepper
2 x onions, peeled and grated or sliced
3 cloves garlic cloves, minced
Skin of 1 whole preserved lemon, chopped
2 tbsp olive oil
1 tsp ground ginger
2 tsp ground cumin
2 tsp ground coriander
2 pinches saffron
1 pinch tumeric
1 cup green olives with pits
A generous handful or two of fresh coriander leaves, roughly chopped
Directions:
Put everything except the olives in a pot, add a couple of glasses of water, and cook until the chicken is done, 40 minutes to an hour, removing the lid is there is too much liquid so that some can evaporate. (The dish should be quite liquid, but it's not a stew.) At the end of cooking, add the olives.
How to Make Preserved Lemons

Ingredients:
8-10 lemons (or Meyer lemons if you can find them), scrubbed very clean
1/2 cup kosher salt, more if needed
Extra fresh squeezed lemon juice, if needed
Sterilized quart canning jar
Method:
1) Place 2 Tbsp of salt in the bottom of a sterilized jar.
2) One by one, prepare the lemons in the following way. Cut off any protruding stems from the lemons, and cut 1/4 inch off the tip of each lemon. Cut the lemons as if you were going to cut them in half lengthwize, starting from the tip, but do not cut all the way. Keep the lemon attached at the base. Make another cut in a similar manner, so now the lemon is quartered, but again, attached at the base.
3) Pry the lemons open and generously sprinkle salt all over the insides and outsides of the lemons.
4) Pack the lemons in the jar, squishing them down so that juice is extracted and the lemon juice rises to the top of the jar. Fill up the jar with lemons, make sure the top is covered with lemon juice. Add more fresh squeezed lemon juice if necessary. Top with a couple tablespoons of salt.
5) Seal the jar and let sit at room temperature for a couple days. Turn the jar upside down ocassionally. Put in refrigerator and let sit, again turning upside down ocassionally, for at least 3 weeks, until lemon rinds soften.
6) To use, remove a lemon from the jar and rinse thoroughly in water to remove salt. Discard seeds before using. Discard the pulp before using, if desired.
7) Store in refrigerator for up to 6 months.
Note:
You can add spices to the lemons for preserving - cloves, coriander seeds, peppercorns, cinnamon stick, bay leaf.