Have you ever thought that the simplest meal is sometimes the best meal you've ever had. I've had moments like this. It's often the something that you would throw together in a pot would bring the cosiest warm feelings. Would you believe that fried rice falls into this category for me? Well it does!
When we were young kids (god knows that was donkey years ago), my mum would cook fried rice and her main ingredients were diced onions, diced char siew (chinese roast pork), frozen vegetables and eggs. These were one of the moments we enjoyed the most and I still remember the big pot of fried rice placed in the middle of the dining table. All of us would swoop down onto the pot with a spoons and heaped up huge helpings onto our dinner plate. I loved eating char siew fried rice with Maggie (that's the brand of the sauce) chillie sauce.
Would you believe when I first worked in Hong Kong many years ago, I could never find this particular brand of chillie sauce any where in town. So every time I go back to Singapore (which was about 4 times a year), I would take the opportunity to pack a few bottles back with me. Hah ... I should have recorded the customs officer's face when he opened my luggage at HK airport.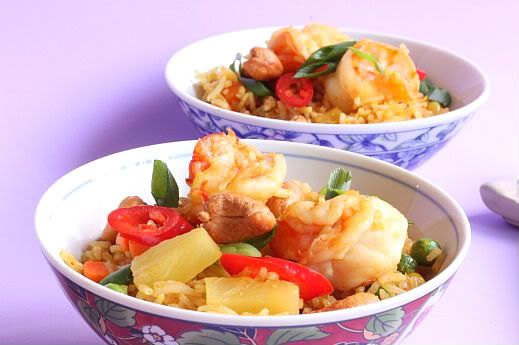 Pineapple Fried Rice with Prawns (Khow Pad Supparod Goong)

Serves 2
Print Recipe
Ingredients:
50g boiled shrimp
1/3 cup frozen mixed vegetable
1/4 cup cubed pieces of fresh pineapple
2 cups cold plain rice (break up any clumps)
3 Tbsp oil
For the Paste:
100g blended pineapple pulp
1 Tbsp tumeric powder
2 Tbsp seafood curry powder
2 Tbsp oyster sauce
2 Tbsp Thai fish sauce
1/2 tsp sugar (or more to taste)
Water to moisten rice
Salt and white pepper to taste
Method:
1) Heat oil in a wok or a pan and stir fry the paste until fragrant and mixture thickens.
2) Add in the rice and frozen vegetables and fry until well mixed. Adjust seasoning and then stir in the boiled shrimp and pineapple pieces.
3) Serve rice warm. Garnish with roasted cashew nuts, fresh coriander and red chillies.