What a coincidence that the Cake Slice Bakers first challenge for 2010 happens to be a Red Velvet Cake! Why you would ask me ... well I've seen so many bloggers posting about this cake or cupcake and I have yet to taste or bake it. I had in fact been meaning to add this to my "to bake list" and was somewhat pleased that it has surfaced as a challenge instead.
Usually I'm pretty good with challenges and would get it out of the way as early as possible. But I've been pretty slack over the last two months and have kinda of rush through my challenges. This particularly one is the same as well. I actually baked these cupcakes on Sunday afternoon. I was back in my hometown in Kuala Lumpur over the last 3 days to catch up with my sister. She's currently residing in Melbourne, Australia and was home for about a month and half. This would be her last weekend in Kuala Lumpur before she flies back home. It was good to catch up with her as well as spend a few days back home, not forgetting eating local food as well.
Rather than attempt a layered 9" cake, I halfed this recipe and turned out a dozen cupcakes instead. I didn't do the original pecan coconut icing and used some left over white chocolate buttercream which had been sitting in my fridge for more than a month now. I would have thought the buttercream would have gone off as it was really "old" but surprisingly it was still good. I just needed to thaw it slightly and rewhipped it. The Red Velvet cupcakes were surprisingly good, with really moist, tender crumbs. I believe the standard icing for this cake would have been cream cheese frosting but I guess if you want to deviate from it, just make sure you choose a frosting that really goes well with this cake.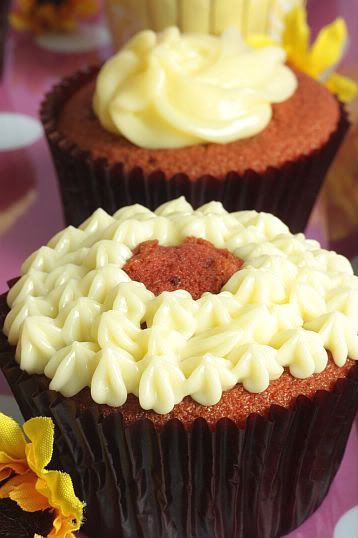 Red Velvet Cake

Makes a 9" layered cake or 24 cupcakes
(Recipe from Southern Cakes by Nancie McDermott)
Ingredients for the Cake:
2 1/2 cups all purpose flour
1/2 tsp salt
1 tsp vanilla extract
1 cup buttermilk (see note below)
2 Tbsp cocoa powder
2 Tbsp red food colouring
1 cup (2 sticks) butter
2 cups sugar
2 eggs
1 1/2 tsp baking soda
1 Tbsp cider vinegar or white vinegar
Ingredients for the Pecan Coconut Icing:
1 cup milk
2 Tbsp all purpose flour
1 cup (2 sticks) butter, softened
1 cup sugar
1 tsp vanilla extract
1 cup sweetened shredded coconut
1 cup finely chopped pecans or walnuts
Method:
1) To make the cake, heat the oven to 350F. Grease two 9-inch round cake pans and line them with waxed paper to kitchen parchment. Grease the paper and flour the pans.
2) Prepare three separate mixtures for the batter. Combine the flour and salt in a medium bowl and use a fork to mix them together well. Combine the cocoa powder and the red food colouring in a small bowl, mashing and stirring them together to make a thick smooth paste.
(I found it easier to add the cocoa to the dry mixture. For the food colouring I added this directly into the batter after the addition of the eggs.)
3) In a large bowl, beat the butter with a mixer at low speed for 1 minute until creamy and soft. Add the sugar and then beat well for 3 to 4 minutes, stopping to scrape down the bowl now and then. Add the eggs one at a time, beating after each one until the mixture is creamy, fluffy and smooth. Scrape the cocoa-food colouring paste into the batter and beat to mix it in evenly.
4) Add a third of the flour mixture and then about half the milk, beating the batter with a mixer at low speed. Mix only enough to make the flour or liquid disappear into the batter. Mix in another third of the flour, the rest of the milk and then the last of the flour in the same way.
5) In a small bowl, combine the baking soda and vinegar and stir well. Use a wooden spoon or spatula to quickly mix this last mixture into the red batter, folding it in gently by hand. Scrape the batter into the prepared pans.
6) Bake at 350F for 20 to 25 minutes until the layers are spring back when touched lightly in the centre and are just beginning to pull away from the sides of the pans.
(For cupcakes bake between 15 - 18 minutes. Check to see if ready - if not bake for another minute or 2.)
7) Cool the cakes in the pans on wire racks or folded kitchen towels for 15 minutes. Then turn them out onto the racks, remove the paper and turn top side up again to cool completely.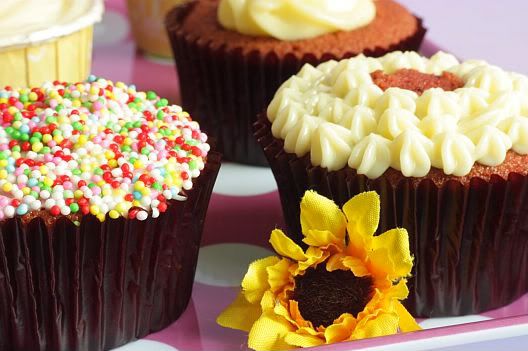 Method for the Coconut Pecan Icing:
1) Combine the milk and flour in a small or medium saucepan. Cook over medium heat, whisking or stirring often until the mixture thickens almost to a paste, around 2 to 4 minutes. Remove from the heat and scrape it into a small bowl to cool completely.
2) Meanwhile, beat the butter with a mixture at high speed until light and fluffy. Add the sugar in thirds, beating well each time until the mixture is creamy and fairly smooth. Add the cooled milk and flour mixture and beat for 1 to 2 minutes, scraping down the sides now and then to combine everything well. Using a large spoon or spatula, stir im the vanilla, coconut and pecans, mixing to combine everything well into a thick, fluffy, nubbly icing.
To Assemble:
Place one cake layer top side down on a cake stand or serving plate. Spread a third of the icing on top. Place the second layer, top side up, on top. Frost the sides and then the top of the cake with the remaining icing. Refrigerate for 30 minutes to help the icing set.
NOTE: If you can't find buttermilk, stir 1 tbsp lemon juice or vinegar into 1 cup of milk and leave to stand for 10 minutes before using.