A lazy Sunday usually means a quick and easy to prepare dinner for me. This particular Sunday was one of those and as we had already been stuffing ourselves the day before I decided to whip up something light. So I decided that I would mix up a salad and this particular recipe looked just right. It had simple to find ingredients and easy enough method.
Would you believe that this is just what we had for dinner that night? It's a really refreshing salad and the dressing reminded me of "Yee Sang". For those who have not heard of this dish, yee sang or yuu sahng (simplified Chinese: 鱼生; pinyin: yúshēng), also known as lo hei (Cantonese for 撈起 or 捞起) is a Teochew-style raw fish salad. It usually consists of strips of raw fish (most commonly salmon), mixed with shredded vegetables and a variety of sauces and condiments, among other ingredients. Yee Sang literally means "raw fish". To the Chinese community in Malaysia and Singapore, eating this dish during the Chinese New Year symbolises abundance, prosperity and vigor.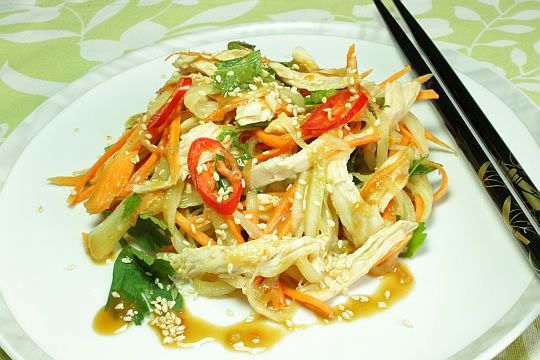 Bang Bang Chicken Salad
Recipe Adapted from "Good Cooking" by Jill Dupleix
Serves 4
Ingredients:
2 chicken breast halves
2 slices peeled fresh ginger
4 stalks of green onion or spring onion
2 stalks chinese celery leaf, cut into 1" length
1 carrot peeled
1 cup thinly sliced iceberg lettuce
1 cucumber peeled
1 teaspoon toasted sesame oil
1 tablespoon rice wine vinegar (or white vinegar)
1 teaspoon toasted sesame seeds
1 tablespoon toasted crushed peanuts
1/4 teaspoon white pepper
For the Dressing:
1 tablspoon sesame oil
2 tablespoon peanut butter
1 tablespoon sweet chili sauce (I used bottled Thai sweet chili sauce)
2 tablespoon soy sauce
2 tablespoon sugar
1 tablespoon rice wine vinegar
1 small, finely sliced fresh red chili (seeds removed)
Method:
1) Put the chicken into a pan with 1 teaspoon salt, giner and enough cold water to cover. Finely shred the green onion and add half to the pan. Bring to a simmer and poach gently for 15 mins. Remove from the heat and leave for 30 mins, then drain.
2) Cut the cucumber, carrot into matchsticks or you can use a grater and grate it into long strips.
3) Finely shread the chicken and combine with cucumber, carrot, lettuce, remaining green onion and celery leaf. Add the sesame oil, vinegar and pepper and toss to mix. Arrange in four bowls or plates.
4) To make the dressing, mix the sesame oil, peanut butter, chili sauce, soy, sugar and vinegar to a paste. Gradually whisk in up to 1/2 cup water until running but still quick thick. Add in the chili and mix well.
6) Spoon the dressing over the chicken salad, sprinkle with toasted sesame seeds and peanuts, and serve as a starter or as part of a Chinese meal.