The 2010 February Daring Cooks challenge was hosted by Michele of Veggie Num Nums. Michele chose to challenge everyone to make mezze based on various recipes from Claudia Roden, Jeffrey Alford and Naomi Dugid.
I really had fun with this month's challenge and am really glad I decided to sign up as a Daring Cook. I've had middle eastern food before at Turkish/Lebanese restaurants in Singapore and also had a chance to visit Turkey many years ago. To me Turkey was such an experience - the country, the people and the food. I loved it whilst there and hope to have the opportunity to visit again.
Having said that cooking middle eastern food is totally new to me. Had it not been for this challenge, I can rightfully say that I would not even attempt it. I managed to dedicate one Sunday afternoon to prepare this for our Sunday dinner. My husband has never tasted hummus before and he simply loved it. I also made a separate dip made of basil pesto and macadamians which he loved as well. I don't suppose this is a middle eastern dip?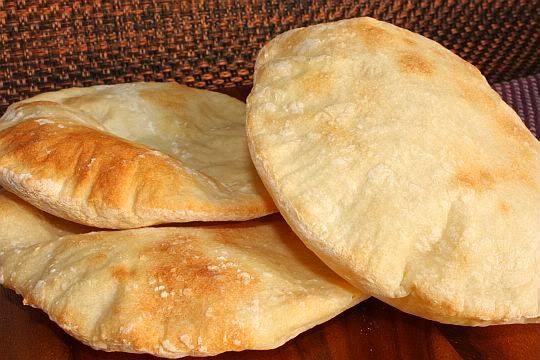 Pita Bread

Recipe adapted from Flatbreads & Flavors by Jeffrey Alford and Naomi Duguid


Prep time: 20 minutes to make, 90 minutes to rise and about 45 minutes to cook
Ingredients
:
2 teaspoons regular dry yeast (.43 ounces/12.1 grams)
2.5 cups lukewarm water (21 ounces/591 grams)
5-6 cups all-purpose flour (may use a combination of 50% whole wheat and 50% all-purpose, or a combination of alternative flours for gluten free pita) (17.5 -21 ounces/497-596 grams)
1 tablespoon table salt (.50 ounces/15 grams)
2 tablespoons olive oil (.95 ounces/29 ml)
Method:
1) In a large bread bowl, sprinkle the yeast over the warm water. Stir to dissolve. Stir in 3 cups flour, a cup at a time, and then stir 100 times, about 1 minute, in the same direction to activate the gluten. Let this sponge rest for at least 10 minutes, or as long as 2 hours.
2) Sprinkle the salt over the sponge and stir in the olive oil. Mix well. Add more flour, a cup at a time, until the dough is too stiff to stir. Turn it out onto a lightly floured surface and knead for 8 to 10 minutes, until smooth and elastic. Rinse out the bowl, dry, and lightly oil. Return the dough to the bowl and cover with plastic wrap. Let rise until at least doubled in size, approximately 1 1/2 hours.
3) Place a pizza stone, or two small baking sheets, on the bottom rack of your oven, leaving a 1-inch gap all around between the stone or sheets and the oven walls to allow heat to circulate. Preheat the oven to 450F (230C).
4) Gently punch down the dough. Divide the dough in half, and then set half aside, covered, while you work with the rest. Divide the other half into 8 equal pieces and flatten each piece with lightly floured hands. Roll out each piece to a circle 8 to 9inches in diameter and less than 1/4 inch thick. Keep the rolled-out breads covered until ready to bake, but do not stack.
5) Place 2 breads, or more if your oven is large enough, on the stone or baking sheets, and bake for 2 to 3 minutes, or until each bread has gone into a full balloon. If for some reason your bread doesn't puff up, don't worry it should still taste delicious. Wrap the baked breads together in a large kitchen towel to keep them warm and soft while you bake the remaining rolled-out breads. Then repeat with the rest of the dough.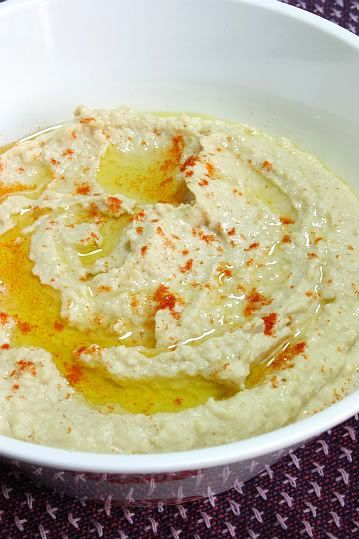 Hummus

Recipe adapted from The New Book of Middle Eastern Food by Claudia Roden


Prep Time: Hummus can be made in about 15 minutes once the beans are cooked. If you're using dried beans you need to soak them overnight and then cook them the next day which takes about 90 minutes.
Ingredients:
1.5 cups dried chickpeas, soaked in cold water overnight (or substitute well drained canned chickpeas and omit the cooking) (10 ounces/301 grams)
2-2.5 lemons, juiced (3 ounces/89ml)
2-3 garlic cloves, peeled and crushed
a big pinch of salt
4 tablespoons tahini (sesame paste) OR use peanut butter or any other nut butter—feel free to experiment) (1.5 ounces/45 grams)
Method:
1) Drain and boil the soaked chickpeas in fresh water for about 1 ½ hours, or until tender. Drain, but reserve the cooking liquid.
2) Puree the beans in a food processor (or you can use a potato masher) adding the cooking water as needed until you have a smooth paste.
3) Add the rest of the ingredients and mix well. Adjust the seasonings to taste.
Mezza Platter with everything on it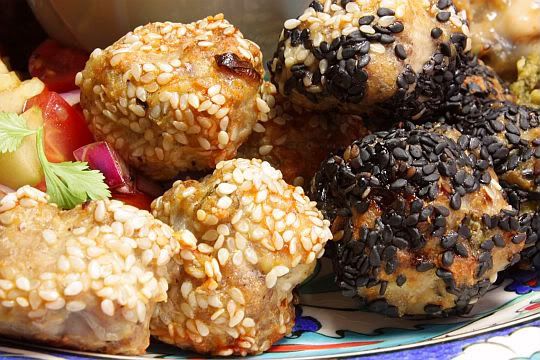 Middle Eastern Sesame Lamb Meatballs With Cucumber Yogurt Dip
Recipe "Arabesque: A Taste of Morocco, Turkey, and Lebanon" by Claudia Roden
Makes about 32 meatballs
Ingredients:
1/3 cup minced onion
1 large garlic clove, minced
1 1/2 teaspoons olive oil
1/2 teaspoon dried mint, crumbled
1/2 teaspoon salt
1/4 teaspoon ground allspice
a pinch cinnamon
1 pound ground lamb (10% fat)
1 cup fine fresh bread crumbs
1 large egg, beaten lightly
2 tablespoons dried currants
1/4 cup black sesame seeds*
1/4 cup white sesame seeds, toasted lightly
*available at Asian markets and some specialty foods shops and supermarkets
To make the meatballs:
In a small non-stick skillet cook onion and garlic in oil over moderately low heat, stirring, until softened. Transfer mixture to a bowl and stir in mint, salt, allspice, and cinnamon. Add lamb, bread crumbs, egg, and currants and combinewell. Form level tablespoons of lamb mixture into 1 1/4-inch meatballs, arranging on a tray as formed.
In a small bowl roll half of meatballs, 1 at a time, in black sesame seeds until coated, transferring to a rack set in a shallow baking pan. Coat remaining meatballs with white sesame seeds in same manner, transferring to rack. Meatballs may be prepared up to this point 1 day ahead and chilled, covered loosely.
Preheat oven to 450°F.
Bake meatballs in upper third of oven 8 to 10 minutes, or until golden and just cooked through.
Cucumber and Yogurt Sauce

Yields about 1 cup
1/2 cup peeled, seeded, and finely diced English cucumber
2 tablespoons finely chopped red onion
Kosher salt
1/2 cup plain whole-milk or lowfat yogurt, preferably Greek
2 tablespoons finely chopped fresh cilantro
Aromatic Lamb/Beef Meatballs

Recipe adapted from Nigella Lawson
Makes approximately 78 lamb meatballs
Ingredients:
1 pound ground lamb/beef
1/4 cup finely chopped cilantro
½ teaspoon ground cinnamon
1 teaspoon ground cumin
1 teaspoon ground allspice
1/2 teaspoon freshly ground black pepper
1 teaspoon salt
2 tablespoons breadcrumbs
1 egg
Vegetable oil, for frying
Method:
1) Put the lamb into a bowl and add the scallions. Sprinkle over the spices, salt, and semolina, and then beat the egg adding to the bowl. Work everything together thoroughly with your hands, and then cover with plastic wrap and leave in the refrigerator for half an hour.
2) Line a baking sheet with plastic wrap and scoop out a scant teaspoon of the mixture. Roll in your hands to form the meatball and place on the lined baking sheet. Have a bowl of cold water beside you to dampen your hands with; this helps them not get too sticky for rolling the meatballs.
3) When you are ready to cook them, heat about 1/2-inch of oil in a frying pan. Line another baking sheet with kitchen towel, and when the oil is hot, fry the meatballs in batches without overcrowding the pan. Cook them for about a minute a side, or until golden brown all over.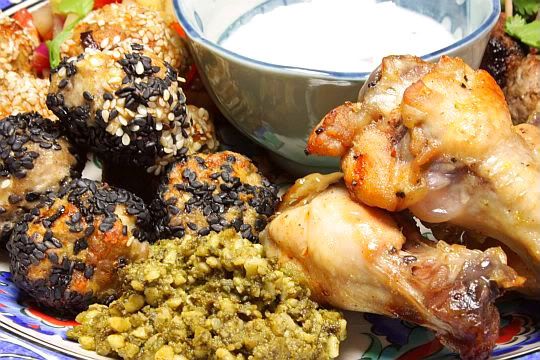 Chicken wings are a popular mezze item. These chicken wings are quite lemony and garlicky, and therefore makes great finger food.
Jawaneh (Grilled Chicken Wings with Lemon and Chicken)

Ingredients:
3 Tablespoons extra virgin olive oil
Juice of 1 lemon
Salt and black pepper
2 to 4 garlic cloves, crushed
16 chicken wings
2 Tablespoons chopped flat-leaf parsley
Method:
1) Mix the olive oil, lemon juice, salt, pepper, and garlic, and place the chicken wings in the marinade. Leave for 1 hour, covered with plastic wrap, in the refrigerator.
2) Remove the wings from the marinade and place them on a piece of foil on a baking tray and cook them under a preheated broiler for 7 minutes, turning them over once. Or barbecue them over glowing embers for the same amount of time. Serve them sprinkled with chopped parsley.
Cherry Tomato & Onion Salad
I also included a quick salad made of cherry tomatoes, diced small red onions, cucumber, fresh cilantro mixed with lemon juice, olive oil and seasoning.