I have never made Kuih Bangkit before but I do so love these cookies. You cannot imagine what it'll taste like just by looking at the pictures. It's like eating a melting moments that has the aroma and taste of coconut cream but oh so much better! Kuih Bangkiit can be found in almost every Chinese household during the Chinese New Year which happens to fall on Valentine's Day this year. The perfect kuih bangkit is dry and crispy. At the same time it should also be light (and I mean in weight that is) and has a somewhat hollow sound. They should also be "pop" size - meaning you can pop the whole cookie into your mouth.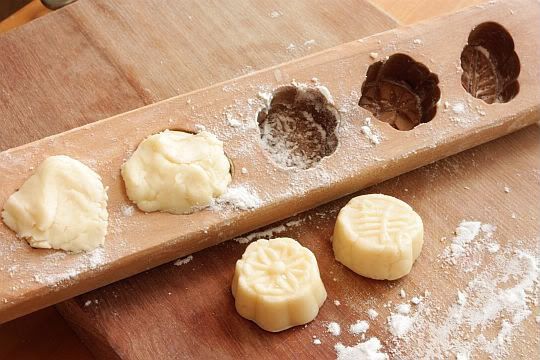 So over this Chinese New Year period, I decided that I will attempt making Kuih Bangkit for the first time. I even went to buy the wooden moulds in order that they are more authentic. And boy, these moulds were quite expensive (as compared with the plastic ones) and this is probably due to the fact that each cookie shape has to be carved into the wood. So last Sunday I put aside some time and tried out a recipe which I had chanced upon. In fact I had printed out several Kuih Bangkit recipes and each one was somewhat different. One called for icing sugar whilst another used castor sugar. And another recipe used arrowroot flour instead of tapioca flour. I decided on the easiest of the lot. Unfortunately that recipe totally "bombed" out. the cookies turned out hard like rock cakes. I threw the rest of the dough away and not wanting to give up as yet, I picked up a different recipe and started once again. The second recipe "bombed" out as well. By this time, I was totally exhausted and fed up as well. I decided to give myself a week's break before attempting to make Kuih Bangkit again.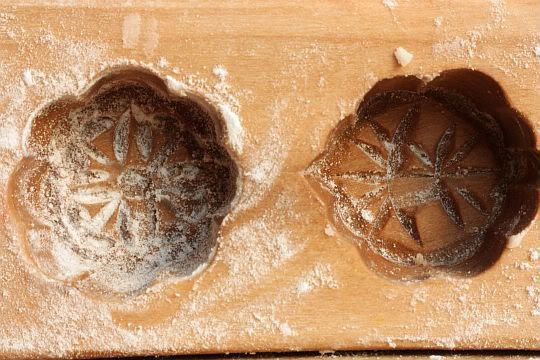 I chanced upon a recipe from Zurin of
Cherry On A Cake
which look as if it would logically work. And it did! Well three times lucky it surely is. The Kuih Bangkit turned our perfectly and I could not help myself pinching a few cookies even before they had cooled. No worries I still have left overs to be served to guests over the Chinese New Year holidays.
To all my blogger friends who would be celebrating Chinese New Year, I would like to take this opportunity to wish you Gong Xi Fa Cai.
Kuih Bangkit

Ingredients:
420 gm tapioca flour (fry about 500g of flour)
50 gm shortening
100 gm icing sugar
2 egg yolks
150- 200 ml coconut milk (I used 180 ml, a mixture of coconut cream and coconut milk)
4 or 5 pandan leaves
Method:
1) Sift the flour into a deep pot. Cut up the pandan leaves into 3" lengths and stir them into the flour. Fry the flour over low heat for about 25 - 30 minutes until the pandan leaves have dried up and crisp.
2) Sift flour again and leave to completely cool over night. You can do this a few days ahead of time as well.
3) Cream the shortening with icing sugar till light and creamy and the sugar is totally dissolved. Then add in the egg yolks and cream to combine completely. Pour in slowly 100 ml of the coconut milk and beat until well mixed and creamy.
4) Put 420g of the tapioca flour into a bowl, add a pinch of salt and add in the creamed mixture. Add in about 80ml more of the coconut milk and mix until the dough comes together. If dry add in some more coconut milk until you get a nice lump of dough. (If the dough is still wet, add a bit more of the flour and if it is too dry, add a bit more coconut milk. The dough should look matte and not glossy). Cover with a damp cloth.
5) Flour the wooden mould well with the extra flour and then press a small mound of dough into it. Keep the remaining dough covered to prevent it from drying out. Press down and cut off excess with a knife or spatula. Then knock the mould face down on the baking tray and the cookie should fall out easily. If it doesn't then you have not floured the mould well.
6) If you don't have a cookie mould , roll out the dough onto a floured board and use a cookie cutter.
7) Mix some gel red colouring with a bit of water. Using a toothpick, dot each cookie.
8) Bake the cookies for 20 minutes in a 170C oven.
9) Allow to cool and store in an airtight container.