The 2010 April Daring Cooks challenge was hosted by Wolf of
Wolf's Den
. She chose to challenge Daring Cooks to make Brunswick Stew. Wolf chose recipes for her challenge from The Lee Bros. Southern Cookbook by Matt Lee and Ted Lee, and from the Callaway, Virginia Ruritan Club.
Now what is a Brunswick Stew (that's me asking myself)? According to Wikipedia, Brunswick Stew essentially resembles a very thick vegetable soup with meat. The key distinguishing factor between soup and Brunswick stew is the consistency. Brunswick stew must be thick; otherwise, it would be vegetable soup with meat added. Most variations have more meat and vegetables than liquid. It further adds that recipes for Brunswick stew vary greatly but it is usually a tomato-based stew containing various types of lima beans/butter beans, corn, okra, and other vegetables, and one or more types of meat. The authentic Brunswick Stew uses squirrel or rabbit meat, but in today's terms chicken, pork, and beef are probably the most common types of meats used.
According to one story, Brunswick stew was named for Brunswick County, Virginia. Apparently, in 1828, Dr. Creed Haskins of the Virginia state legislature asked for a special squirrel stew from "Uncle Jimmy" Matthews to feed people attending a political rally. Brunswick, Georgia residents claim their stew is the original. It's just as likely the stew -- or at least a very similar version -- was created much earlier. With the original ingredients of game (usually squirrel) and corn, and long simmering over an open fire, it's typical of early native dishes.
I can honestly say I had no clue what to expect from this recipe at all. I've had stews before but one such as this, NO! From what I had read in the Daring Cooks forum, the stew should be so thick that a wooden spoon could stick up straight if it was stuck in the middle of the pot. The stew was very flavourful and robust. In fact it tasted even better the next day but I think I'll be sticking with stews I'm more familiar with.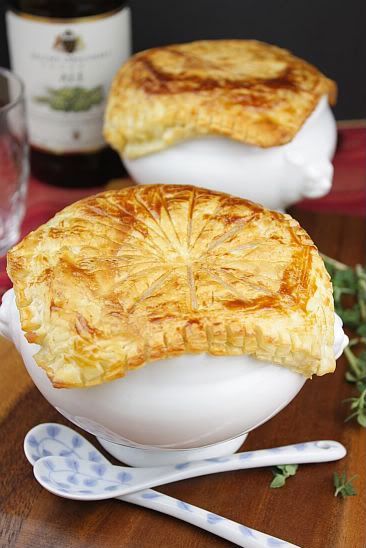 Brunswick Stew
Serves 5 - 6
Recipe Adapted from "The Williamsburg Cookbook"
Ingredients:
1 medium sized chicken (about 1.5kg or slightly more)
2 medium onions, chopped
2 tbsp bacon bits (fried until crispy, keep 2 Tbsp of the oil)
1 can of stewed tomatoes
1 medium tomato, remove the seeds/pulp and cut into 1" cubes
1 cup broad beans (I couldn't find lima beans)
2 medium potatoes, diced into 1" cubes
1 can corn kennels
1/2 cup baby carrots, cut into 1" length
1 Tbsp Worcestershire sauce
2 dried bay leaves
2 tsp fresh taraggon
Salt and black pepper to taste
Method:
1) Cut chicken into pieces, remove the skin. Blanch the chicken pieces in a pot of boiling water for about 2 minutes to remove some of the scum.
2)Throw away the water and rinse the chicken quickly. Add 2 quarts of water into the pot. Throw in the bay leaves. Simmer the chicken until the meat can be easily removed from the bones - this should take about 1 1/2 hours (or slightly less).
3) Once chicken is soft, take out from the pot and debone it. Shred the chicken meat and set aside.
4) Add all the raw vegetables to broth and simmer, uncovered, until vegetables are cooked.
5) Finally add in the shredded chicken, taraggon, seasoning and bacon oil. Simmer for about 2 minutes and your stew is done.