When it comes to cooking Thai food at home, I guess my repetoire is kind of limited. So far it's been tomyam and green or red curries. So it must have been coincidence when we had Thai food for dinner a couple of weeks back that I decided I would try my hand at making pad thai. I've seen on cooking programs how easy it is to make this dish and the important ingredient is the tamarind sauce. A few helpful hints I had discovered is never to cook large batches of this noodle. Also do not cook the noodles for too long otherwise it becomes soggy. And make sure that your heat is on medium high. If it's your first time making pad thai, a good source for reference would be Chez Pim's
"Pad Thai for Beginners
.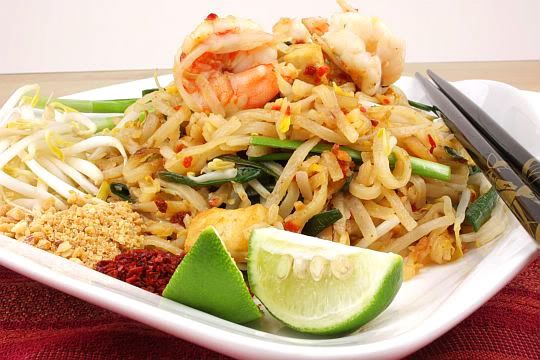 Phad Thai Goong

Recipe Adapted from "Lemongrass and Sweet Basil" by Khamtane Signavong
Serves 4
Ingredients:
200g medium rice stick noodles
2 Tbsp vegetable oil
3 tsp dried shrimps
12 medium-sized prawns
3 eggs, lightly beaten
4 Tbsp cubed firm tofu (beancurd)
4 Tbsp pickled radish
80g beansprout, extra 20g for garnishing
12 chinese chives, chopped into 3" lengths
2 Tbsp ground roasted peanuts (extra for garnish)
1 large lime, quartered, for garnishing
For the Tamarind Sauce:
4 Tbsp palm sugar
4 Tbsp fish sauce
4 Tbsp tamarind juice
2 tsp chilli powder, or to taste
Mix all ingredients in a bowl. Microwave for about 1 to 2 min to dissolve the palm sugar.
Method:
1) Soak the rice noodles in warm water for 15 mins, then remove and drain.
2) Half all the ingredients to cook the noodles in 2 batches.
3) Heat the oil in a work, add the dried shrimps and cook until golden brown. Add the king prawns and stir until cooked, about 1 1/2 mins.
3) Then add the tofu, pickled radish and tamarind sauce. Push the noodles to one side and pour in the egg. Once the egg is half cooked, break it up and add it to the noodles. Add in the beansprout and stir well until the noodles are almost cooked.
4) Add in the chives and stir quickly. Dish out the noodles on a plate. Garnish with raw beansprout, ground toasted peanuts, a tsp of chilli powder, a tsp of sugar and a quarter lime.