When I borrowed
Mix & Bake by Belinda Jeffrey
from the library a while back, I tried out a few of her recipes. I liked the book so much that I have now placed an online order through Amazon and waiting for it's arrival.
I was intrigued by this particular recipe because it is gluten free. I have made very few gluten free cakes so was interested to try it out. I loved the picture of the cake in the book and the use of almond and coconut sounded so delicious. This is one of those recipes that is so easy. No mess, no need to take out your mixer and so few utensils to wash up. I love recipes like this.
The smell of the cake being baked in the oven was heavenly. As some of you may know, my hubby who is not a "cake" person. But surprisingly he kind of like this cake and even had one whole slice to himself. Maybe because it didn't use flour at all, thus making the cake extremely moist. It's texture actually resembled Kuih Bingka (this is a local Malaysian baked dessert made of tapioca). This is definitely a keepsake recipe.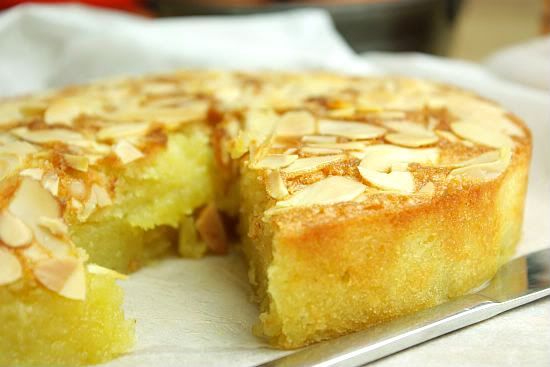 Buttery Almond and Coconut Cake
Serves 8 – 10 (Gluten Free)
Recipe Adapted from "Mix & Bake by Belinda Jeffrey"
Ingredients:
180g almond meal (finely ground almond)
70g dessicated coconut
1/4 tsp salt
160g fine castor sugar
4 eggs
1 1/2 tsp vanilla extract
200g unsalted butter, melted and cooled
3 Tbsp almond flakes
Method:
1) Preheat oven to 180C. Butter a 24cm shallow cake tin and line the base and sides with buttered parchment paper. Dust the tin lightly with flour (or rice flour if avoiding wheat), shake out access and set aside.
2) Put the almond meal, desiccated coconut, salt and sugar into a medium-sized bowl and whisk together for a minute. In a separate bowl, whisk together the eggs and vanilla extract until thoroughly mixed, then add in the melted butter. Mix together until well incorporated.
3) Tip the butter mixture into the almond mixture and stir together. You will notice that the batter is quite liquid as it does not have flour in this recipe.
4) Scrape the batter into the prepared pan and spread evenly. Scatter the almond flakes over the top.
5) Bake for about 40 mins or until the top of the cake springs back slowly when you press it gently. Cool the cake in the tin on a wire rack.
6) Once the cake is cooled, take out from pan and remove the paper This cake can be kept in a tightly sealed container in room temperature for 2 days. Alternatively you can keep in fridge for 1 week or freeze for up to 3 weeks.