It has been a while since I have made a fondant cake. I guess it's purely due to lack of time over the weekends. Any way I told myself that over last weekend I would get down to doing one. This particular fondant design comes directly from
Fun & Original Character Cakes by Maisie Parrish
. I loved the design and thought it was so totally fun to make this cake.
The cake itself which consisted of a three layer 6" fudgy chocolate cake was baked last Thursday night. Also I made some home-made marshmallow fondant on Friday night and stored it in an airtight container. My other half had to work on Saturday (he usually doesn't have to) so it was good that I had the whole apartment to myself to tackle this project. I decided to set up my work-bench in the living cum dining room, putting out my the tools and other items I would have needed - the reason for this is because my kitchen is really small and does not have enough counter-top space. In situations like this I would usually try not to make too much of a mess when working with fondant and icing sugar otherwise the pesky ants will be swarming over everything in the apartment. The weather last Saturday was kinda humid too and I thus ended up turning on the air-conditioner (hmm .... a little bit of luxury once in a while) whilst working. In total this project took me about 5 hours to complete. And this included trimming and crumb coating the cake with white chocolate buttercream. You can image how excited I was when the whole cake came together. I was thoroughly, thoroughly pleased with the end result.
Anyway it's a long weekend here in Singapore and probably in your own country as well. So I wish you and your family a great weekend, Happy Easter and a good week ahead.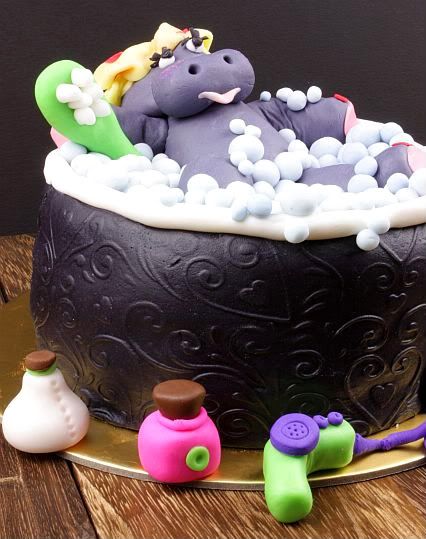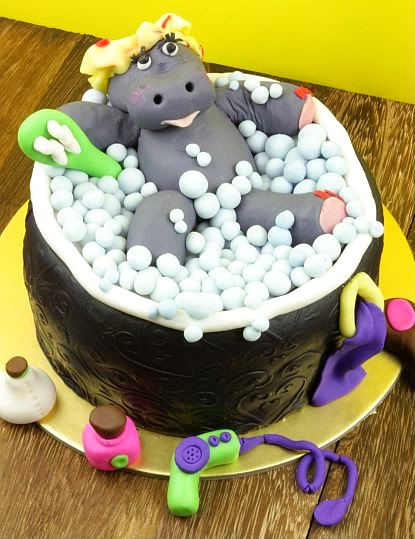 Fudgy Chocolate Cake
Recipe Adapted from "Quick Mix Cakes"
Ingredients:
185g unsalted butter, chopped at room temperature
280g castor sugar (reduced from original recipe)
3 eggs
225g self-raising flour
60g cocoa powder
1 Tbsp of instant coffee powder dissolved in 250ml hot water. Leave aside to cool completely
Method:
1) Grease a deep 23cm round cake pan, line base and side with baking paper
2) Combine all ingredients in a mixer bowl. Beat on low speed until ingredients are combined. Then beat on medium speed until mixture is smooth and changed in colour (about 3 - 4 minutes).
3) Spread mixture into prepared pan and bake in 180C for about 45 - 50 minutes. Check and if still moist in the center,bake for another 5 - 10 minutes.
4) Stand for 5 minutes before turning onto wire rack to cool.
5) Frost with your favourite frosting once cake is totally cool.