Chinese fried rice has to be everyone's favourite and it certainly is on our menu. I made sure I cooked extra white rice the night before and kept the left over in the fridge. That's because I already had the intention of making fried rice for our Sunday dinner. I would usually cook fried rice a few hours before actual dinner time and then warm it up in the microwave. That way I'm done with most of the washing up and have a more relaxed Sunday evening.
There are so many versions of fried rice and I think every country in Asia probably has it's own local version. Thailand has it's pineapple fried rice, Hong Kong has the salted fish fried rice and of course Indonesia has it's "Indonesian nasi goreng". I'm not sure what version this particular one is but I usually add whatever I have handy into my fried rice. This time round I used some lap cheong which I had in my freezer. Gosh I do believe they have been inside there for at least 4 months now. Quick tip, it's always best to use overnight rice when making fried rice.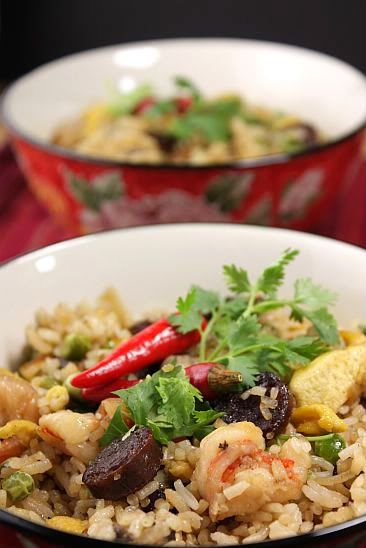 Lap Cheong (Chinese Sausage) Fried Rice
(Serves 3 - 4)
Ingredients:
4 cups overnight rice
1 1/2 Tbsp soya sauce
1/2 tsp salt
1 tsp sesame oil
1 tsp white pepper powder
3 pieces of lap cheong, sliced thinly
10 medium size prawns, shelled, deveined and sliced in half, lengthwise
1 cup frozen peas
8 shitake mushroom, diced into cubes
4 Tbsp cooking oil
1 medium onion (diced)
3 eggs, lightly beaten, season with a dash of soya sauce and white pepper
Chinese cilantro for garnish
Method:
1) Heat up a wok (or a deep frying pan) with 2 Tbsp oil. Add the egg all at once and swirl it around. Leave to set around the edges and then break it up into pieces. Cook until lightly brown and set aside.
2) Add the remaining 2 Tbsp of oil to the wok. Add the lap cheong and fry on medium fire until fragrant and some oil comes out from the sausages. Then add in the diced onion and fry about 2 minutes.
3) Add the prawns, peas and mushroom and fry until about 80% cooked.
4) Then add in all the rice. Add in the seasoning and fry the rice for another 2 minutes. Finally add in the cooked egg and fry for another minute. Taste and add more seasoning if required.
5) Serve the fried rice warm with some chopped chinese coriander and fried shallots.