Our hostesses this month, Evelyne of
Cheap Ethnic Eatz
and Valerie of
The Chocolate Bunny
, chose delicious pate with freshly baked bread as their June Daring Cook's challenge! They've provided us with 4 different pâté recipes to choose from and are allowing us to go wild with our homemade bread choice.
Coming up with a pâté from scratch is practically unheard of in my repetiore of baking and cooking. In fact I can definitely count with one hand the number of times I've ever eaten pâté. And even then, it would be canned pâté usually from the local supermarket shelf. So if it was not for me participating in Daring Cooks, you will never ever find pâté being posted in this blog.
Now what is pâté? In Wikipedia, it says that pâté is a mixture of ground meat and fat minced into a spreadable paste. Common additions include vegetables, herbs, spices, and wine. Pâté made of meat can be cooked in a variety of ways such as baked in a crust and this is called pâté en croûte or it can be also be baked in a terrine (or other mold), in which case it is known as pâté en terrine. Vegetarian pâtés based on tofu, mushrooms, nuts or various beans are also available. These pâtés do not require cooking and are easily made with a food processor. In Vietnam, pâté is commonly used on banh mi baguette type sandwiches.
For this month's challenge, I decided to make a pâté made of chicken which would be wrapped in proscuitto. I accompanied this with a dark German rye bread rather than the usual french baguette.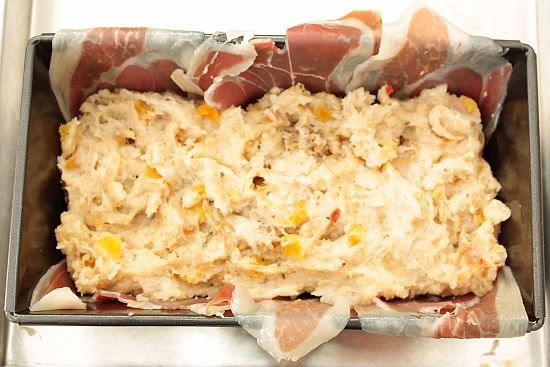 Chicken and Sausage Pâté Terrine
Recipe Adapted from "Fresh with Anna Olson"
Ingredients:
3 cups stale white bread, crusts removed, cut into 1/2" cubes
1/3 cup whipping cream
2 large egg whites
400g fresh minced chicken meat
3 brawurst spicy sausage meat, sausage casing removed
1 tablespoon salt
1 tablespoon finely grated fresh ginger
2 teaspoons finely grated lemon zest
1/2 teaspoon ground black pepper
1/2 cup diced dried apricots
3 tablespoons orange liqueur
1/2 cup roasted walnut, wholes
10-12 slices proscuitto ham
5 - 6 fresh bay leaves
Method:
1) Toss cubed bread with whipping cream and egg whites and let sit for 30 minutes. Stir to blend (bread should break down while stirring) and set aside.
2) Preheat oven to 325°F. In a food processor, blend chicken with salt, ginger, lemon zest and pepper. Add bread mixture and blend until smooth. Soak dried apricots in orange liqueur for 5 minutes. Add to chicken mixture.
3) Transfer mixture to a large bowl and stir in apricots and pecan halves.
4) Line an 8 ½-x-4 ½-inch loaf pan with parchment paper. Line bottom and sides of parchment paper with prosciutto ham, so that ham hangs of the sides of the pan.
5) Spoon and spread half of the chicken filling into pan. Then spread a thin layer of sausage meat on top of the chicken. Randomly place the fresh bay leaves on top of the sausage meat. Then spoon the remain chicken filing on top. Fold prosciutto over to cover completely, adding extra prosciutto if necessary.
6) Place a piece of parchment over top of pan and cover with foil. Bake on a baking tray for about 50 minutes, until an internal temperature of 165°F is reached. Cool terrine, then chill completely before turning out and slicing.
German Dark Rye Bread
Recipe Adapted from RecipeZaar
Makes 2 loaves
Ingredients:
3 cups all-purpose flour
1/4 cup unsweetened cocoa powder
2 (1/4 ounce) packages active dry yeast
1 tablespoon salt
1/3 cup molasses
2 tablespoons butter
1 tablespoon sugar
3 1/2 cups rye flour
cooking oil
2 cups water
Directions:
1) In large bowl, combine all-purpose flour, salt, cocoa, yeast, and caraway seed.
2) Heat and stir molasses, butter, sugar, 2 cups water and 2 Tablespoons oil until warm (about 110°-115°F).
3) Add to dry mixture.
4) Beat at low speed on electric mixer 1/2 minutes, scraping bowl. Then continue to beat for another 3 minutes
5) Then by hand, stir in enough rye flour to make a soft dough.
7) Turn out onto lightly floured surface; knead till smooth (about 5 minutes).
8) Cover, and let rest 20 minutes. Uncover, and punch down the dough. Divide the dough into half. Shape into 2 round or oval loaves on greased baking sheets.
9) Brush the loaves with small amount of cooking oil. Slash tops with a sharp knife.
10) Cover the loaves and let it rise until double in size (45-60 minutes).
11) Place loaves onto tray and bake at 400C degrees for 25-30 minutes. Remove and place on racks to cool completely.