The August 2010 Daring Cooks' Challenge was hosted by LizG of
Bits n' Bites
and Anula of
Anula's Kitchen
. They chose to challenge Daring Cooks to make pierogi from scratch and an optional challenge to provide one filling that best represents their locale.
When I first read the challenge the first thought came to mind was "What is a Pierogi?". After some reading, I found out that Pierogi started in Eastern Europe in the late 1800's and have been served as a side dish ever since. The Polish (who may be the originators), call them pierogis, translated into English means "small pies" Pierogi is a small pocket of dough made of flour, egg, salt and water, and is usually stuffed with a variety of combined ingredients. These ingredients could be a combination of potato and cheese, potato and onion, or sauerkraut and mushrooms, then boiled, steamed, fried or baked.
It was lucky that we were allowed to reinvent the pierogi to our local versions. I decided to interpret the original recipe to the Chinese dumpling. Would you be surprised if I told you that the word "Chinese Dumpling" would throw out 43 different versions from the internet? Well it does! Chinese dumplings can comprise of a sweet or a savoury filing. It can be pan-fried, deep-fried, boiled, steamed and sometimes even baked. I came across this particular recipe from a very old food and travel magazine. It is really, really easy and the filing is somewhat unusual.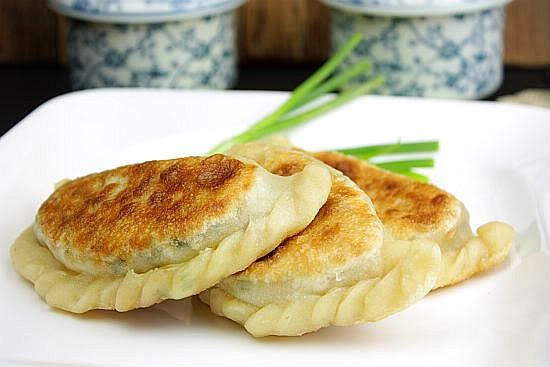 Pan-Fried Chives Dumpling
Serves 2 - 3
Ingredients:
100g plain flour
50ml water
200g chives, finely diced
3 Tbsp of spicy dried shrimp sambal (recipe as below)
1 beaten egg, fried and finely diced
1/4 tsp sesame oil
1 Tbsp vegetable oil
Salt to taste
1/8 tsp white pepper
Method:
1) Mix the flour and water together until it formsa dough. Knead the dough and leave aside for 15 to 20 minutes.
2) In a bowl, mix the chives, spicy shrimp sambal, egg, sesame oil, vegetable oil, salt and pepper.
3) Cut the dough into 6 equal pieces. Roll each piece out thinly into a 4" circle.
4) In each piece, add sufficient filing, then fold in half. Press the edges together to seal the dumpling. Then pleat the edges to shape into a puff.
5) In a non-stick pan, add about 2 Tbsp vegetable oil. Pan-fry until dumplings on both sides until golden brown. Remove from pan and serve immediately with a chilli dipping sauce.
Spicy Dried Shrimp Sambal (Sambal Udang Kering)
Recipe from "The Kuali"
Ingredients:
250g dried prawns, soaked and pounded finely
2 Tbsp tamarind pulp combined with 100ml water (squeeze, then strain the tamarind juice)
4 stalks lemongrass, smashed
Oil for frying
Spice Ingredients (to grind until fine)
4 candlenuts (buah keras)
2cm piece fresh turmeric
2cm square piece shrimp paste (belacan)
8 fresh red chillies
5-6 dried chillies, soaked and seeded
80g garlic
150g shallots
Seasoning:
4-4 1/2 Tbsp sugar or to taste
3/4 - 1 tsp salt or to taste
Method:
1) Heat a little oil in a wok and fry lemongrass until fragrant. Reduce the heat to low and add blended spice ingredients. Fry until fragrant.
2) Add dried prawns and continue to fry for a while. Mix in tamarind juice and fry over a low heat until mixture is almost dry. (Keep stirring while frying to prevent it from sticking to the base of the wok). Adjust seasoning to taste. Dish out and leave to cool completely.