I really cannot believe that it was almost a month ago that Pei-Lin of
Dodol & Mochi
contacted a group of Singapore food bloggers asking if we would be interested to meet up. I have not met Pei-Lin personally but know her through her amazing blog and heh .. she is a fellow country-woman of mine too! And me being me, of course I jumped at the idea (with a somewhat tinge of reservation in meeting a bunch of total strangers). As more and more confirmed their participation, the gears of motion into planning the event started. Edith of
Precious Moments
kindly volunteered her beautiful home to all of us.
So it was on Sunday, 8 August, we all met up around noon for an afternoon of chatting and feasting. When I arrived just about noon, Jane of
Passionate About Baking
was already there. The rest started to stream in and just after 1:00 pm, we decided it was time to tuck into the delicious spread of food contributed by each. I was thoroughly blown away by the dishes prepared, and from scratch as well .. no pre-packed ingredients!
I had initially anticipated the afternoon to last about three odd hours but would you believe me if I told you that it lasted for 6 hours. OMG .. and this is a group of strangers meeting for the first time! I had to leave at about 5pm as my hubby was hanging around the vicinity but if I didn't have to rush off, I could have continued the night away. Edith would probably have had to provide us with camping tents for the evening if that was the case.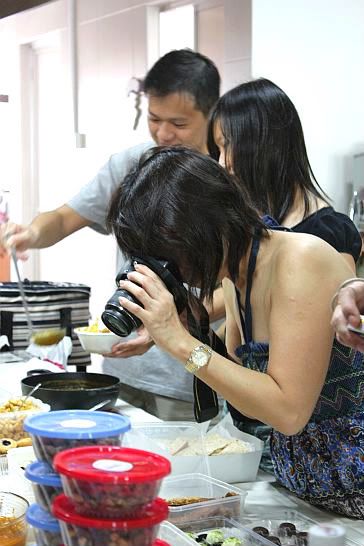 The talent around the room spoke for itself. I was also taken aback that the youngest blogger in the group is only 18 years old. Gosh – I would never have thought of baking, cooking or blogging when I was at her age. In fact the kitchen was the last place I had wanted to be – I had to be scolded by my parents just to help out with the food preparation. We chatted on numerous topics, from food, recipes, ingredients, method of preparation, bloggers, etc. It was truly amazing that a single interest could bring all of us together so comfortably. I am truly glad that Pei-Lin took the initiative to organize the gathering .. thank you my dear friend! And thank you Edith for being a wonderful host! Also check out the talent behind these blogs.
Bee Bee of
Honey Bee Sweets
Grace of
Kitchen Corner
Jane of
Passionate About Baking
Shirley of
Kokken 69
Zhuoyuan (the only rose amongst the thorns) of
Baking Library
Edith of
Precious Moments
Jess of
Bakericious
Ai Mei of
My Baking Cottage
Yan Ee of
Sweeter Side of Life
Pei-Lin of
Dodol & Mochi
You-Fei of
Loving Baking
Also check out the feast that was prepared.