They do so that time heals everything but at this moment, I am not sure .... but I can only hope that it does. Maybe the hurt doesn't go away, you just get numb after a while. At the moment, I am taking things one day at a time! Everywhere I look, memories come flooding back. Every time I receive a condolence email from friends and office colleagues, I have to hold back my tears. I think our two "boys", Benji and Milo, are still unaware that their daddy is never coming back. However I do feel that they sense that something is not right at home.
If you have been following my blog you would know that my dear was never one for cakes. However certain cakes he will partake of. This particular swiss roll happens to be one of the last desserts I had made for him. So for now I leave you with this.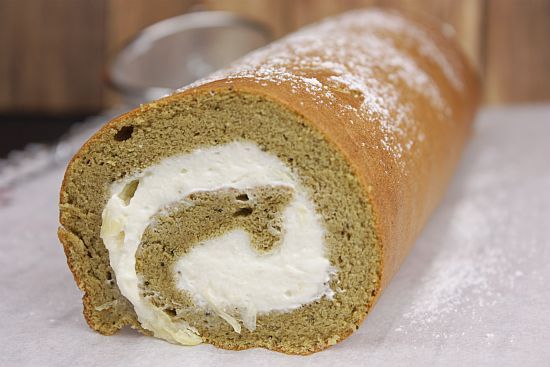 Matcha Durian Swiss Roll
Recipe Adapted from Creative Culinaire
Ingredients for the Cake Roll:
100g cake flour
1 tsp baking powder
1 1/2 Tbsp matcha powder
1/4 tsp baking soda
50g caster sugar
1/4 tsp salt
60g vegetable oil (like corn oil or canola oil)
75g water (at room temperature)
5 eggs (60g per egg), separate the yolks from the whites
1/4 tsp cream of tartar
70g caster sugar
For the Filing:
1 cup "Whip & Pour" (or thickened cream)
1/2 cup of fresh durian flesh
Method:
1) Grease a full size jelly pan and line with parchment paper. Preheat your oven to 200C.
2) Sift together cake flour, baking powder, matcha powder, salt and baking soda into a clean bowl and set aside.
3) In another bowl, whisk by hand the egg yolks, 50g sugar, oil and water until the mixture is light in colour and slightly thicken. This should take about 1 minute.
4) Add the flour mixture to the egg and whisk until smooth. Set aside.
5) In a clean bowl whip the egg whites until slightly frothy. Then add in the cream of tartar and continue to whip for about 1 minute. Then add the remaining 70g sugar and continue to whip until stiff peaks.
6) Fold 1/3 of the egg meringue into the yolk mixture. Fold gently until mixed well. Then add in the remaining 2/3 meringue and continue to fold gently using either a whisk or spatula. Fold only until the white streaks have disappeared. Do not overfold or you may deflate the batter.
7) Pour into the lined jelly pan and smoothen the top to ensure an even surface. Bake for 10 - 15 minutes or until the top is golden brown. Check at 10 minutes baking time - do not over bake or your roll will become hard.
8) Remove from oven and let cool for about 15 minutes before removing parchment paper. The roll should be completely cool before adding the whipped cream.
To Assemble:
1) Trim off the sides of the roll to have clean lines. Place the roll on top of a clean sheet of parchment paper. Place one side of the long end of the roll at the edge of the parchment. This will allow you to roll the jelly roll easily.
2) Whip the "Whip & Pour" (or thickened cream) until stiff. Add the durian flesh and mix until combined. then spread the durian filing on the jelly roll, leaving about 1/2" border on the sides.
3) Using the end of the parchment paper, start to roll away from you. Keep the roll tight as you continue to roll. Once you have finished use the parchment to wrap the entire jelly roll and place it into the refrigerator to set for about 3 hours.
4) To serve dust the roll with some icing sugar.